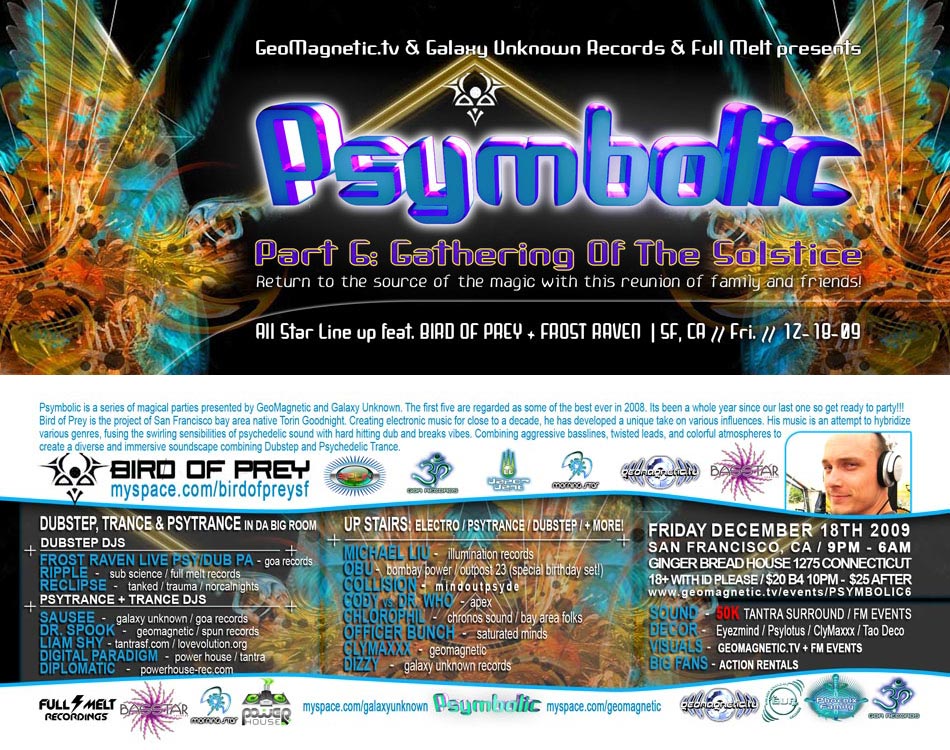 ***
PSYMBOLIC Part6: Gathering Of The Solstice
Friday, Dec 18th, 2009
http://geomagnetic.tv/events/PSYMBOLIC6
~> Please post this announcement to all family lists! See ya there! <~
GeoMagnetic.tv & Galaxy Unknown Records & Full Melt presents the Return to the source of the magic with this reunion of family and friends!
All Star Line up feat. BIRD OF PREY + FROST RAVEN | SF, CA // Fri. // 12-18-09
Psymbolic is a series of magical parties presented by GeoMagnetic and Galaxy Unknown. The first five are regarded as some of the best ever in 2008. Its been a whole year since our last one so get ready to party!!! Bird of Prey is the project of San Francisco bay area native Torin Goodnight. Creating electronic music for close to a decade, he has developed a unique take on various influences. His music is an attempt to hybridize various genres, fusing the swirling sensibilities of psychedelic sound with hard hitting dub and breaks vibes. Combining aggressive basslines, twisted leads, and colorful atmospheres to create a diverse and immersive soundscape combining Dubstep and Psychedelic Trance.
DUBSTEP, trance & psytrance in Da big room
DUBSTEP Djs
BIRD OF PREY - LIVE DUB/PSY PA - myspace.com/birdofpreysf
FROST RAVEN - Live psy/dub PA - goa records
RIPPLE - sub science / full melt records
RECLIPSE - tanked / trauma / norcalnights
PSYTRANCE + Trance Djs
SAUSEE - galaxy unknown / goa records
DR. SPOOK - geomagnetic / spun records
LIAM SHY - tantrasf.com / lovevolution.org
DIGITAL PARADIGM - power house / tantra
DIPLOMATIC - powerhouse-rec.com
up stairs: ELECTRO / psytrance / dubstep / + more!
MICHAEL LIU - illumination records
OBU - bombay power / outpost 23 (special birthday set!)
COLLISION - mindoutpsyde
OFFICER BUNCH - saturated minds
CODY vs. Dr. WHO - apex
CHLOROPHIL - chronos sound / bay area folks
CLYmaxXX - geomagnetic
DIZZY - galaxy unknown records
details >
FRIDAY, DECEMBER 18th 2009
San Francisco, CA / 9pm - 6am
GINGER BREAD HOUSE 1275 Connecticut

visuals / GEOMAGNETIC.TV + Friends + FM Events Lighting
intergalactic gateways / Tony EYEZ-MIND + PsyLOTUS + ClyMAXX
psydeco + atmosphere / TAO DECO + ACTION RENTALS MEGA FANS + More!
sound systems / TANTRA 50,000 watt SUPER STACK + SUBSCIENCE
San Francisco CA // 8pm to 6am // 18+ // Directions + tickets >
$20 at the Door B4 10PM / $25 After
http://www.myspace.com/galaxyunknown
http://www.myspace.com/geomagnetic
timeslots >
Room 1:
Visuals by Geomagnetic, Sound by Tantra
8-9: Diplomatic
9-10: Digital Paradigm
10-11: Frost Raven
11-12: Ripple
12-1: Reclipse
1-2:30: Bird of Prey/ Torin
2:30-3:45: Dr. Spook
3:45-5:00: Sausee
5:00-6: Liam Shy

Room 2 (Upstairs):
Visuals by Apex, Sound by Full Melt
9-10:30:Dizzy
10:30-11:30: Obu
11:30-12:30: Michael Liu
12:30-1:30: Officer Bunch
1:30-2:30: Collision
2:30:4: Dr. Who vs Cody
4-5: Chlorophil
5-6: Clymax

directions >

View Larger Map
http://www.fullmeltrecordings.com | http://www.geomagnetic.tv | http://www.sausee.com | http://www.digi-drugs.com
***