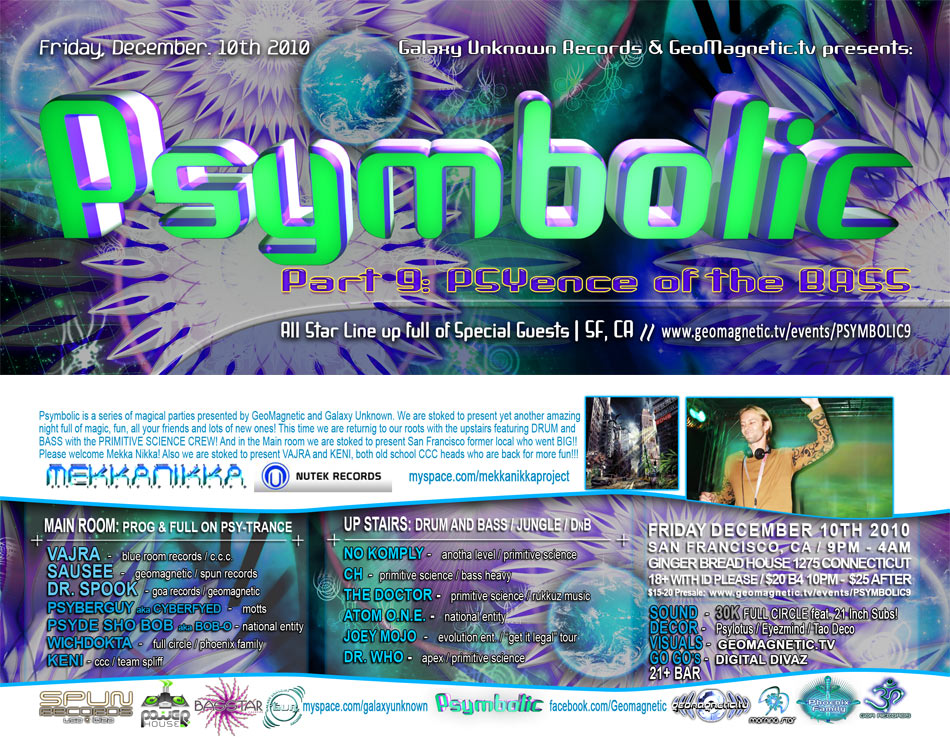 ***
PSYMBOLIC Part9: PSYence of the BASS
FRIDAY, December 10th 2010
San Francisco, CA / 9pm - 4am
GINGER BREAD HOUSE 1275 Connecticut
http://geomagnetic.tv/events/PSYMBOLIC9
~> Please post this announcement to all family lists! See ya there! <~
PSYMBOLIC 9: Psyence of the BASS
Psymbolic is a series of magical parties presented by GeoMagnetic and Galaxy Unknown. We are stoked to present yet another amazing night full of magic, fun, all your friends and lots of new ones! This time we are returnig to our roots with the upstairs featuring DRUM and BASS with the PRIMITIVE SCIENCE CREW! And in the Main room we are stoked to present San Francisco former local who went BIG!! Please welcome MekkaNikka!
Featuring: MEKKANIKKA ~* LIVE PA *~ (NuTek Records, Spain)
Main Room: [Psy Trance/ Goa/ Progressive]
------------------------------------------------------------------
Sausee (Galaxy Unknown Rec./ Spun Rec)
Wichdokta (Full Circle/ Phoenix Family)
Doctor Spook (GeoMagnetic.tv/Phoenix Family)
Psyber Guy aka Cyberfyed (Motts)
Psyde Sho Bob aka Bob-O (National Entity)
Keni Kenzter (Team Splif / CCC)
Vajra was not able to make it to this show so he wont be playing this time.
Upper Room:[Drum & Bass, Jungle, Dub Step]
--------------------------------------------------------------------
No Komply (Anotha-Level/ Primitive Science)
CH (Primitive Science/ Bass Heavy)
The Doctor (Primitive Science/ Rukkuz Music)
Atom O.N.E. (National Entity)
Joey Mojo (Evolution Ent./ "Get it Legal" Tour)
Dr. Who (Apex, Primitive Science)
http://www.myspace.com/galaxyunknown
http://www.myspace.com/geomagnetic
GO-GOs / VIBE PATROL by: THE DIGITAL DIVAZ
details >
visuals // GEOMAGNETIC.TV + Friends
intergalactic gateways // PsyLOTUS
psydeco + atmosphere // TAO DECO + MEGA FANS + More!
sound systems // FULL CIRCLE 30,000 watt SUPER STACK
stardate // FRIDAY, December 10th 2010
destination // GINGER BREAD HOUSE 1275 Connecticut, San Francisco, CA // 9pm to 4am
qualification // 18+ with ID please // Door CASH ONLY PLEASE $20 B4 10pm / $25 After

TimeSlots>
NO ATM @ VENUE!!!!
Please do not park up the hill from the venue!!!!

Psymbiolic Time SLots:
Main Room
9-10 = Keni Kenzter
10-11 = Psyde Sho Bob (aka Bob-O)
11-12 = Psyber Guy (aka Cyberfyed)
12-1 = Dr. Spook
1-2:20 = MEKKANIKKA (LIVE PA)(From Spain!!!!)
2:20-4 = Sausee vs Wichdokta (1st ever tag set)
Upstairs
9-10:30 = Joey Mojo
10:30-11:30 = Atom O.N.E.
11:30-12:30 = The Doctor
12:30-2 = No Komply
2-3 = CH
3-4 = Dr. Who
directions >
http://maps.google.com/maps?daddr=Connecticut+St+%26+Cesar+Chavez+St+%4037.750002,-122.396220&geocode=&dirflg=&saddr=&f=d&hl=en&sll=37.749976,-122.396214&sspn=0.001529,0.001633&ie=UTF8&t=h&ll=37.750002,-122.39622&spn=0.006295,0.007962&source=embed
http://www.fullmeltrecordings.com | http://www.geomagnetic.tv | http://www.sausee.com | http://www.digi-drugs.com
***