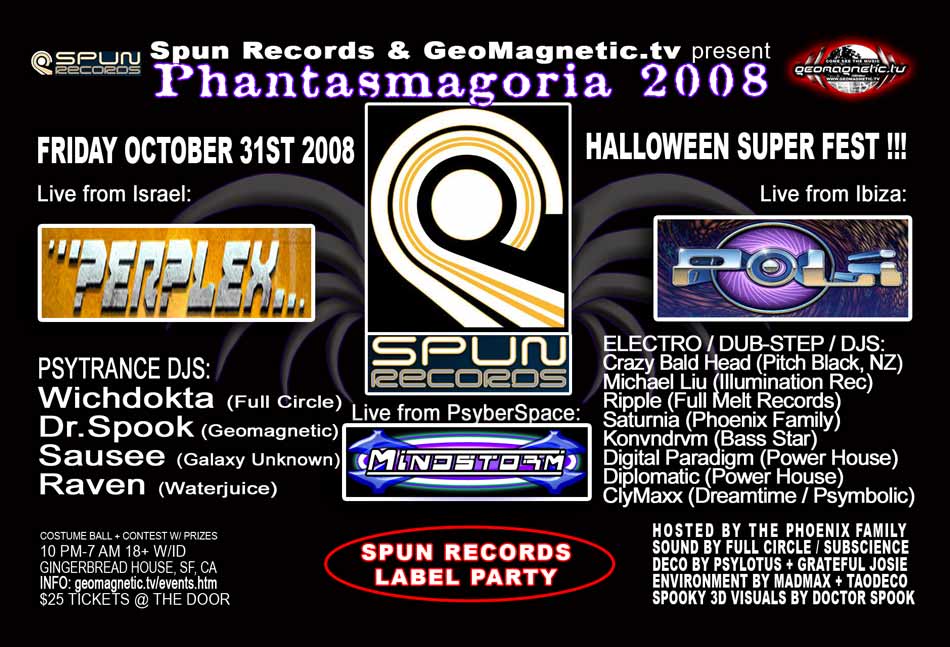 Come one come all to the Halloween Ball on FRIDAY Oct 31… MoooHahahahhhahaa…. Yes friends and freaks and family…. The time once again to celebrate our pagan roots through debaucherous abandonment, gratuitous pleasure… and of course wild costumes! This is a chance to let your grown up kid inside of you run loose and run exuberantly free to dance the night away… Your dear hosts have a really wild ride in store for you… prepare for a tour through multiple styles and sub sects of psy in the main room as well as a panoply of pleasure in the Electro / Dub Step chamber …
http://geomagnetic.tv/events/Phantasmagoria8.html
>> Please post this announcement to all family lists! See ya there! <~
***
PHANTASMAGORIA 8:
The Phoenix Family and Geomagnetic present...
A Spun Rec Halloween Label Party
Friday, October 31st, 2008, SF, CA

On Friday, October 31st, 2008, The Phoenix Family and GeoMagnetic.tv present their 8th annual Halloween epic costume ball featuring A Spun Records Label Party! For nearly 10 years the Phoenix Family have been pouring their hearts into creating the perfect technique for a fun loving psychedelic trance experience and after 7 annual Halloween blowouts we our completely honored and excited to be hosting this truly memorable festivity once again. All the way from ISRAEL we are pleased to finally debut for the USA the artist known as PERPLEX who has been working diligently on his 10th studio album! Also please welcome all the way from IBIZA for his debut USA performance, POLI who also is ready to throw down an epic set of new hits and collaborations with the leading psy artists on the planet. MINDSTORM aka Dr. Spook is celebrating his new DVD/CD coming out soon on Spun Records. RAVEN (Waterjuice) is celebrating the new WATERJUICE album that just came out on Beatport. In the upstairs Electro/Dubstep Zone we have CRAZY BALD HEAD from New Zealand! To top it all off we have 6 decorators coming to create huge 3D art installations and gigantic new props and paintings. We have the giant Fans that were at Psymbolic 3 to help cool everyone and ensure a pleasant atmosphere. Waters will be only $1 all night. Check in at the front desk to have your costume judged to be eligable for cool Spun and Geomagentic prizes like CDs, Shirts, DVDs and more!
Main Room // progressive / fullon / psytrance >
PERPLEX
www.myspace.com/ronenperplex
www.perplexmusic.com
Spun Records – ISRAEL

POLI
www.myspace.com/polimusic
www.discogs.com/artist/Poli
Spun Records – IBIZA

MINDSTORM
www.myspace.com/mindstorm1
www.geomagnetic.tv/artists/mindstorm.htm
Geomagnetic/Spun Records – PSYBERSPACE
RAVEN (WATERJUICE)
www.myspace.com/waterjuicemusic
http://www.discogs.com/artist/Raven+Tupling
Vaporvent Records – San Francisco

Psytrance DJs >
WICHDOKTA/ Full Circle / Geomagnetic
DOCTORSPOOK / Geomagnetic /goa records
SAUSEE / galaxy unknown/goa rec

Up Stairs // dubstep / electro / techouse / trance / breaks >

CRAZY BALD HEAD
(Pitch Black's Manager)
Dubmission Rec
New Zealand

MICHAEL LIU / illumination rec / psymbolic
RIPPLE / sub science / full melt records
SATURNIA / phoenix family / celestial dragon
KONVNDRVM / basstar records
DIGITAL PARADIGM / power house / psymbolic
DIPLOMATIC / power house / psymbolic
ClyMAXX / dreamtime / psymbolic
http://geomagnetic.tv/events/Phantasmagoria8.html

details >
visuals / GEOMAGNETIC.TV + Friends
intergalactic gateways / PSYLOTUS + ClyMAXXX + GRATEFUL JOSIE + SATURNIA
environment + atmosphere / FULLCIRCLE/TAO DECO + ACTION RENTALS 42 inch MEGA FANS + More!
sound systems / FULL CIRCLE 40,000 watt SUPER STACK + SUBSCIENCE.org
San Francisco CA // 10pm to 7am // 18+ // tickets >$25 at the Door

directions >

View Larger Map
More info on Mindstorm/Doctorspook's new DVD "Spun On Earth" (Spun/Geomagnetic Rec) | www.geomagnetic.tv/svj1
***
Coming Up Next:
Nov 8th: Psymbolic Part4: Derangement of the Senses feat: PREDATORS live from Greece - Cosmos CD Release Party+More
Nov 15th: SanDiego Outdoor event: RECRYSTALLIZATION
Nov 21: SPUN ON EARTH @ 1015 Folsom Feat GMS (Bansi and Riktam) Live from Ibiza, Poli(Ibiza), Mindstorm, Random+Chromatone+
Dec 5th: TBA
Dec 19th: Geo Solstice @ 1015 Folsom: Phoenix Family 10th anniversary with Spun Rec feat: SHANTI and LOGIC BOMB (tbc)...
Dec 27th: Michael Liu's mega event... TBA
and so much more! =)