Back To Geomagnetic Events Page
Updated info below! (Line up and Map point directions) also check Facebook page for last minute info.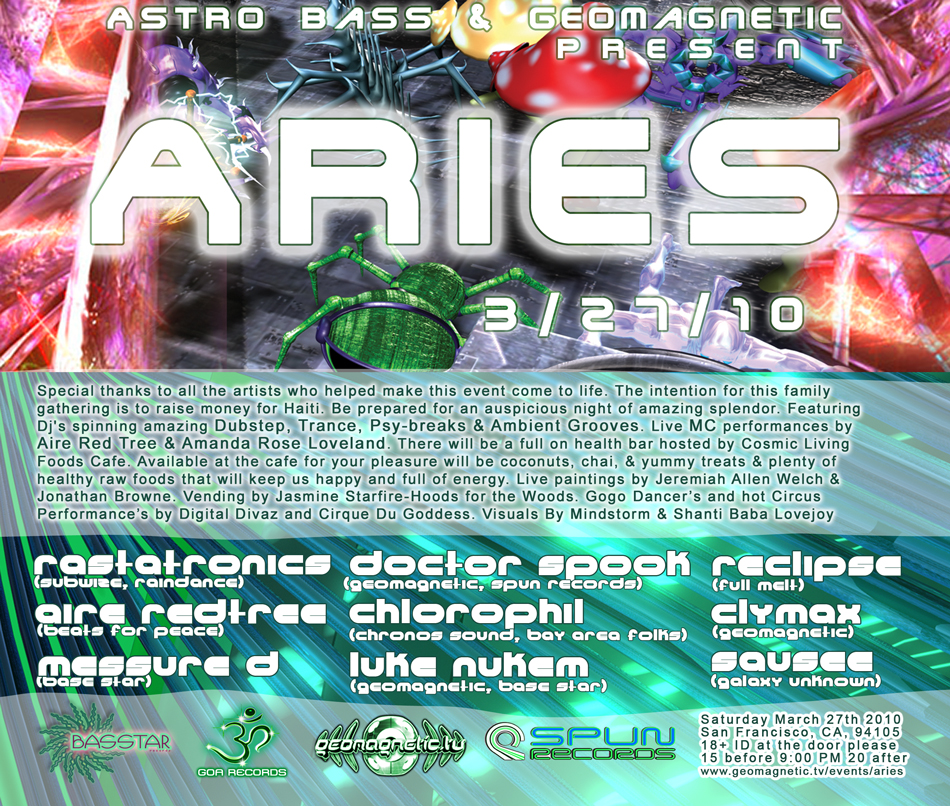 --->>>>Map Point Link<<<--Parking Lot of--150 Folsom-
DJ' Line UP
8-9 Aire Redtree
(Beats for Peace)
9-10 Luke Nukem
(Geomagnetic, BassStar)
10-11 Frost Raven
(Geomagnetic/Goa Records)
11-1 The L.S.D.js 3x3 Tag Team Debut
Liu, Michael (illumination records)
Sausee (Galaxy Unkown, Goa Records)
Doctor Spook (Spun Records,GeoMagnetic)
1-2 ClyMAX
(Geomagnetic/Bass Star)
2-3 Rastatronics
(Subwize, Raindance)
3-4 Measure-D
(Geomagnetic/Bass Star)
4-5 Reclipse
(Rukkuz Muzic and Trauma)
5-6 Chlorophil
(Synchronos Recordings/BayAreaFolks)
This is a private residence and as such treat the space with the utmost respect and sanctity. Also no one will be admitted with out getting a stamp from the map point so please go there first for instructions even if you know where the event is, thanks dear family!