JUNE 15,16,17th GEMINI ARTS MUSIC AND DANCE GATHERING 2007
BROUGHT TO YOU BY: FULL CIRCLE PRODUCTIONS, PHOENIX FAMILY and YOU
TO GOOGLEMAP: (14785 Belden Town Rd., Belden, Ca. 95915 Phone # 1-530-283-9662)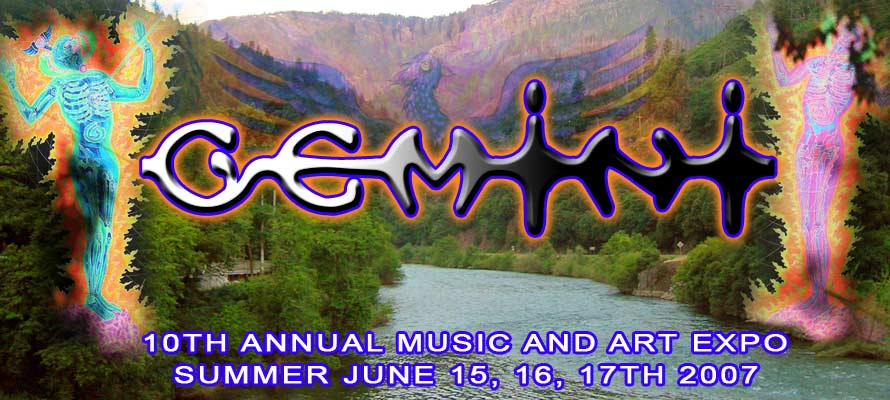 Greetings and Namaste,

The time has come once again for the 10th anniversary of the legenday and much anticipated northern California underground outdoor music festival lovingly known as GEMINI. This amazing gathering is dedicated to unifying our bay area, USA, and international global music family. Artists from all over the world and many nations have committed to creating an intentional community located in our own private town called Belden, 3.5hrs NE of San Francisco (full directions from all areas below) . That's right, we are taking over a whole resort, complete with restraunt, bathrooms, showers and dance floor porta-potties.
This is a FREE gathering, (i.e. No Entrance or parking/camping Fee) which means it is what we all make it. To support this gathering please LEAVE NO TRACE and prepare to clean up after yourself and to urge your neighbors/friends to do the same… Please CARPOOL to save room for camping and for the environment. =)
We are calling out to any and all participants who would like to help create a sacred, mystical setting for us to experience true freedom and bliss. If you have decorations, want to volunteer time, anything that you think would make this gathering better or safer… Please contact: Richard (wichdokta@hotmail.com)

Please welcome all the new family members that are traveling from across the world to present their music and artistic creations for us enjoy. The new energy is going to be very welcome on the dance floor. This is going to be something a very unique and special gathering.

We proudly present 2 stages of different music for your dancing and listening pleasure, a trance stage and a fully stocked chill area. PLEASE NOTE: Renegade sound systems will not be tolerated, you will be shut down and kindly asked to leave the gathering. Spread the word to all family and friends about this UNIQUE and SACRED gathering and the amazing new venue. So get ready to have a great time and collectively transform this town into a "PSYCHEDELIC CITY".

Belden Resort
14785 Belden Town Rd., Belden, Ca. 95915 (530) 283-9662
Surrounded by majestic mountains, you will drive by many waterfalls and through rock mountain tunnels, view luscious valleys of green and old bridges on your journey into the Sierra foothills. The river that runs adjacent to the town is great for rafting and swimming. The event location has plenty of camping under the trees. There is an Old Style Saloon for drinks, snax and water and NOW also featuring a fully stocked restraunt . All cabins at Belden are now reserved. There are additional Rooms for rent only 1.5 miles from the event at the beautiful Pine Air Hotel (530) 283 - 1730
Sound on both stages by: Full Circle/Know Audio featuring a giant system for the Dance Stage with over 30,000 watts of Pleasure!
Visuals on both stages by: Geomagnetic.tv
Decorations and Sacred Shrines by: Mindalters, Taodeco and the Phoenix Family
LINE UP FOR DANCE STAGE

FRIDAY NIGHT - SATURDAY MORNING (Scroll Down for Full Bio for the Artists/DJs)
8 pm Nagual ( Phoenix Family ) [San Diego]
9pm Jeto ( Psytribe ) [LA]
10pm Kri ( Touch Samadhi ) [North Carolina]
11pm Collision ( Mind Outpsyde) [Iowa]
12am Primeordial Ooze ( Touch Samadhi/Divine Balance Rec. ) [Illinois]
1am Facehead ( Geomagnetic.tv ) [Pennsylvania]
2am Shotu ( Hadra / AP Rec. ) LIVE & DJ SET [FRANCE]
4am Konflux ( Psytribe ) [LA]
5am Medi-monks ( Touch Samadhi ) [North Carolina]
6am Dragon ( Touch Samadhi / Vortex ) [Mississippi]
7am Shagee ( Esoteric Gen) [Arkansas]
8am Mulu (Paragon Family) [Arcata, CA]
9am Helios ( Geomagnetic.tv / Magic Glasses ) [San Francisco]
10am Rob-Ot ( Phoenix Family / Psy-Booty Rec. ) [San Francisco]
11am N ick Synergy (OverMindWorks) [Arizona]
12pm Takuan ( Phoenix Family / Touch Samadhi ) [Santa Cruz]
MAIN STAGE TAKES A REST BETWEEN 1PM - 5PM
SATURDAY NIGHT - SUNDAY MORNING (Scroll Down for Full Bio for the Artists/DJs)
5pm Michael Liu ( Secret Psychedelia ) [San Jose]
6pm Spyros ( Psytribe ) [LA]
7pm Solomoon ( Metameme ) [Colorado]
8pm Random ( Geomagnetic.tv ) [San Francisco]
9pm Shapestatic ( Geomagnetic.tv / GiainMind Rec. ) [North Carolina]
10pm Wichdokta ( Full Circle / Phoenix Family ) [Ukiah]
11pm Kali ( Fractal Rec.) LIVE & DJ SET [ SPAIN]
1am Aktif (Mind Outpsyde)[Iowa]
2am Dia ( Psytribe )[ LA/Japan]
3am Brains ( Mubali,Bodhisattva, and Arahat ) [Illinois/SanDiego]
4am Moksa ( ATLpsy ) [Georgia]
5am KodeSix ( Geomagnetic.tv )[Montreal, Canada]
6am Virtual Light ( Geomagnetic.tv )[Ottowa, Canada]
7am Meta ( Geomagnetic.tv ) [Santa Barbara]
8am Lauryn ( 28th Day ) [New York]
9am DJKT ( Touch Samadhi ) [Illinois]
10am Saturnia ( Phoenix Family ) [San Mateo]
11am Paradigm ( Geomagnetic.tv / Maia Rec.) [Missouri]
12pm *Christine* ( Vaporvent Rec. ) [Santa Cruz]
1 pm Closing Ceremony Main Stage Shuts Down --- We Love You! ----

LINE UP FOR CHILLOUT STAGE

Friday Night - Saturday Morning

LINE UP TBA
Saturday – Sunday Morning

LINE UP TBA
-DIRECTIONS and LOCATION -----------------------------------------------------------------------------------------------------------------------------
GOOGLE MAPS: http://maps.google.com/maps?f=q&hl=en&q=belden+town+california&sll=37.0625,-95.677068&sspn=50.69072,65.126953&ie=UTF8&ll=40.005594,-121.257648&spn=0.024161,0.0318&t=h&z=15&iwloc=addr&om=1
** FROM THE BAY AREA **
Take hwy. 80 towards Sacramento. Take the Hwy. 505 off ramp and follow it to I-5. Take the I-5 North to Williams. Once in Williams, take the Hwy.20 East. ( Follow the Hwy.20 signs when you come to the first town ). Once past the first town you will follow Hwy.20 to Yuba City/Marysville. These 2 towns are separated only by a bridge, you can't miss it. Once over the bridge and in Marysville, be in the fast lane and follow the Hwy.70 signs. It's alittle tricky but if you pay attention you will get through it. Follow Hwy.70 about 49 miles past Oroville and turn right into Belden Town. There are signs for the town on the Hwy. "
** FROM NORTH OF S.F. ** (Anywhere north of Santa Rosa)
Take Hwy. 101 to Hwy.20 East 5 miles north of Ukiah. Follow Hwy.20 all the way to Yuba City/Marysville. ( pay close attention to the Hwy.20 signs at the first town past Williams). Once in Yuba City/Marysville you will go over a bridge ( this bridge separates the towns, you can't miss it ) be in the fast lane and follow the Hwy.70 signs. It's a little tricky so pay attention. Follow Hwy.70 about 49 miles past Oroville to Belden Town. There are signs on the Hwy. for this town. Take a right over the bridge and your there.
** FROM LOS ANGELES **
Take the I-5 North to the Hwy.99 junction and take the Hwy.99 to Yuba City. Take a right onto Hwy.20 towards Marysville. Be in the fast lane and follow the Hwy.70 signs once over the Marysville Bridge. You can't miss it. Follow the Hwy. 70 signs carefully, they're a little tricky. Follow Hwy.70 about 49 miles past Oroville to Belden Town. There are signs on the Hwy. for this Town. Take a right over the bridge and your there.
-----------------------------------------------------------------------------------------------------------------------------
ARTIST BIOS AND ADDITIONAL INFORMATION
LIVE ACTS:
Shotu ( Hadra / AP Rec. ) LIVE & DJ SET
With the release of his 1st. Album this year, Shotu has been taking the European Dance floors to the next level. Producing music with greats such as JAHBO, his music is ready for the Gemini crowd. As a DJ, he is well known for his funky super psychedelic sound with dark twists and turns. He just played a party in Europe with Mubali who gave him the lowdown on us and is sweating with anticipation.
Kali ( Fractal Rec.) LIVE & DJ SET
This new rocket scientist has blown up on the scene and is taking no prisoners. His singles are all over the map and is waiting to release his 1st. Album. His powerful bass lines with his uplifting yet in your face synth stabs will have you doofing your third eye wide open. Get ready for the ride of your life.
Random ( Geomagnetic.tv )
Random is San Francisco California native Ross DuBois a principal dj and producer of goa/psy-trance coming from the USA. He has toured the US, Canada, and Mexico extensively playing at festivals, clubs, outdoors, indoors, night time and day. "Implicate Order," Random's first full length album was released worldwide in 2006 on Geomagnetic.tv. With 15 + singles on labels like VaporVent, Geomagnetic, Timecode, Acidance, Kagdila, Shiva Space Technology, and many more. His music kidnaps the listener's mind and sends it spiraling beyond space and time, it's intelligent, crunchy, groovy and mind-expanding. Random's flawless djing and psychedelic audio wizard has been zapping dance floors silly since 1996. The world is ready for this sensation to storm you to bliss!
Brains ( Mubali, Bodhisattva, and Arahat )
A psychedelic collaboration of the minds of three experienced trance artists and digital music creation tool connoisseurs: Chris Martin (Bodhi), Tom Gooch (Arahat) and the Reverend Greg Farley (Mubali) which seeks to stretch the boundaries of an already hard-to-define genre. A constant frenzy of insane ideas have been coming together @ Psycircle studios, San Diego, Ca, ranging from the spectrum of smoked-out to aggressive, with tools such as the Virus TI, Cubase, Ableton, Reason, and the Powercore. They will then be channeled at this next event *LIVE* using "MacBookPros", VSTs, loops, and Torq, causing an increase in frenzy and madness. Please bring your wireless brain cords and jack in so that you may over stimulate your minds to a completely de-programmed state. Look out for LIQUID MIND V/A coming soon, featuring the first to be released Brains track.
Shapestatic ( Geomagnetic.tv / Gaian Mind Rec. )
A dynamic duo of DJ Kri and Alex aka the Bastard, their mission is to bring psychedelic trance music to the people and bring them to a state of enlightenment in the process. Techi yet full-on, these two know what gets you going. So get ready for one of the East Coasts finest engineers to fully exploit your minds and bodies to psychedelic psycho acoustics.
Primordial Ooze ( Touch Samadhi/Divine Balance Rec. )
Primordial Ooze is Scott aka Kaiser Soze and Igor aka S.O.T. of Chilluminati and Touch Samadhi. Over the past few years, they have been creating a sound that is both intensely driving and super psychedelic. Playing almost every show possible on the East Coast, these two guys have created a steer in the psychedelic scene. Get ready for a powerfully charged midnight snack from these guys at Gemini.
Meta ( Geomagnetic.tv )
META is the psychedelic trance project of Aeon La France, a SF Bay Area resident and trance enthusiast since 2000. His music ranges from melodic morning tracks to hard edged night time stompers - he has released several singles on GeoMagnetic Records compilations and his debut full length album "Ekstasis" is set for release on Darkstar records on May 15th 2007.
Rob-Ot ( Phoenix Family / Psy-Booty Rec. )
As one half of the ever popular M-Field, this veteran of the S.F. Psy scene has been making dance floors groove with booty thrusting intent for many years. As one of the Phoenix Family DJ's, he has played with and at some of the best shows in S.F. His progressive yet full-on sound is great for the morning stomp on the Gemini dance floor.
Virtual Light ( Geomagnetic.tv )
VIRTUAL LIGHT based in Ottawa Canada. He is a relentless dj and a world class top shelf psy-producer as well. His Dj sets have been known to send dance floors to other planets and back and his unique style of uplifting full on psychedelic trance is nothing short of amazing! His first artists release will be on VA compilation "PSYCHIC CHAKRA". He is planning the release of his debut artist album CD/DVD titled LIVE WIRE VOODOO scheduled for release in the near future.
Helios ( Geomagnetic.tv / Magic Glasses )
Raphael Pepi has been dj'ing and producing music for many years. He is an accomplished audio engineer as well as a programmer. He is known for his funky and uplifting style that inspires deep dance floor euphoria and soulful introspection while maintaining the essential energy to excite even the pickiest of music lovers. His debut Album will be out on Geomagnetic this year.
Konflux ( Psytribe )
Konflux is a solo project of US based DJ and producer Vasily M. Born and raised in Russia he relocated to the states in 2001. Living in Los Angeles and frequenting San Francisco he soon gained recognition within the local psytrance communities. His impeccable mixing skills in conjunction with his always growing selection and eclectic taste in music give way for enthusiastic trancers on the floor. A unique, elegant, yet pounding and groovy style has been developed at Konflux's studio after years of producing tunes in various styles. What comes out of it can be roughly described as "a blend of light night and heavy morning trance". His tracks are scheduled for release on Phar Psyde Rec. and Namaha Rec.
Facehead ( Geomagnetic.tv/Anomalistic Rec )
"FaceHead (A.K.A. Chuk Looper) Has spent countless hours locked in a dark basement with no windows fighting off technology induced headaches, and psychosis to bring to you this set. FaceHead has a unique style that could only come from someone who was locked in a dark basement for countless hours with no windows, fighting off technology induced headaches and psychosis. So prepare yourselves to experience what its like to be locked in a dark basement with no windows, fighting off technology induced headaches and psychosis for countless hours. FaceHead."
KodeSix ( Geomagnetic.tv )
Coming in from Canada, this group of crazy psyslingers are at the top of their game. Playing some of the biggest shows Montreal has to offer, they know what we want to hear. Hard, dark, and psychedelic, they will bring on the morning and send us into the birth of the day. 3D Vision Rec.'s would love to sound this tough.
Dai ( Psytribe/Geomagnetic )
Dai comes from the land of the rising sun. His psychedelic party experience started at his teen age in, and Dai launched his career as a DJ at age of 20. Soon after he moved to Kalifornia, Los Angels, as an exchange student, he joined the long established party organize team PsyTribe He shared the decks with countless international and local artists. As many would agree, his remarkable characteristics are versatility and technical mixing skill. Dai's dynamic, yet impeccable mixing allows him to create an animated story in his set. He creates a flawless blend of twisted night and morning neurotrance and He can not hide his love for groovy progressive as his name frequently appears on progressive trance party line-ups. He has been playing at many parties mainly in the USA, Mexico, and Japan. Dai started producing music in 2005. He has one released track on Geomagnetic TV. Now he is focusing on creating more serious and twisted psy-trance under the names Amatti and Cognoscenti. Collaboration with a talented local artist Konflux is also on the way. Dragon ( Touch Samadhi / Vortex )
Medi-monks ( Touch Samadhi )
After years of jedi training, the Medi-Monks emerge from their mountainside lab this year, ready to present the world with a large dose of the sounds they've been concocting. Hours of careful calculations and reckless spending of government research grants have led to discovery of a fresh batch of new audio-compounds unlike any science has ever known.
DJs:
Kri ( Touch Samadhi )
Kri has been DJ'ing and producing music for about 10 years now and has been one of the main forces behind the Touch Samadhi Crew of N. Carolina. Playing all over the States and beyond, this guy knows what people want to hear. Bringing back the love in an overcrowded sea of NeuroTrance DJ's, his sets are uplifting and beautiful. One half of Shapestatic, he is one of the best.
Collision ( Mind Outpsyde)
A founder of Mind Outpsyde, which is based out of his homeland of Psyowa and gaining countrywide recognition for their infamous events, Chris Stark has played a major role in managing and organizing some of the biggest psy trance parties in the Midwest last year, bringing the likes of Electrypnose, Ocelot, Random, Mubali, Wichdokta, Primordial Ooze and many more. His incredible energy combined with his selection of pulsating bass lines with powerful nighttime tones and intricate twilight sounds are sure to even make the trees dance! Prepare for a special performance for his first time ever in Cali, as Collision is sure to make an impact.
Shagee ( Esoteric Gen)
The original mystic of Missouri, Shagee is one of the most intensely demented psy-trance hysterics in the nation. Never one to shy away from hair-pulling, screaming fullon, Shagee engages his audience in a staring contest of the Third Eye!
Solomoon ( Metameme)
Coming from the mountains of Colorado, this dready will send you to the moon. His melodic style along with his Goa'ish sound make for a spaceship ride not to miss. Coming back from a long stint in Goa, India, I'm sure he has a lot of treats for us from the homeland. He has played all over the world and is now coming to Gemini.
Aktif (Mind Outpsyde)
Grown in the Ukraine, Nick was "trance-planted" into the dark fields of Psyowa. Creme of the Mind Outside crop, he yields maniacal rhythms and annihilating beats which demolish dance floors with twisted fury. Raw consumption of this psycho-Aktif performance will cause disorder and sinister devastation. With unmerciful track selection and relentless energy Aktif is a high voltage produce that will devour YOU!
Moksa ( ATLpsy )
In Atlanta, this man is a founding father to the psy scene there. 2 yrs. old and getting stronger, the ATLpsy Collective is coming of age. He plays dark mud trance that will have you grooving the thickness of his vibe till dawn. After this event, you will all be looking for his demo's.

Lauryn ( 28th Day )
Lauryn's passion for music has been a constant all her life. She began playing the violin when she was 9 years old. Her love of music led her to begin djing and producing her own psytrance radio show while attending college. In 2002, Lauryn moved to Boston where she helped start Psyforia. Recently relocated to New York City, Lauryn is a label dj with Peak Rec (Switzerland) and is affiliated with 28thday (NYC) and Mistical Productions (Texas). In the past six years, Lauryn has played across the US, in Canada and Europe, sharing the stage with many well-known international acts. She is known for her energetic, nighttime, funky full-on, psychedelic sets, as well as the occasional
morning progressive grooves.
DJKT (Touch Samadhi)
Poised mischievously between Light and Dark, Kt toys with full-on midnight mayhem while beckoning the melodic morning to come closer. She intertwines the energetic edge of the night with the uplifting beauty of the daylight—pulsing one into the other—and weaving the two into an intricate dance of celestial balance in order to arrange the soundtrack of your morning party fantasy world.
Wichdokta (Full Circle / Phoenix Family )
The Wichdokta began DJing in '96 and formed the FULL CIRCLE COLLECTIVE in Mendo, Northern Cali. In '97 he began throwing the infamous gathering called "GEMINI" that was held on the majestic Eel River. In '2000 he met up with Dr. Spook and created the loving PHOENIX FAMILY COLLECTIVE. He also runs the sound company FULL CIRCLE PRODUCTIONS. As a promoter and gathering thrower, he knows what gets the people going. The Wichdokta's sets are something of a spectacle to witness, his amazing energy and sinister music go hand in hand to give you the ride of your life on the dance floor. Hailed as one of the top DJ'S in San Fran-psycho, he has played with the best in industry;
Saturnia (Phoenix Family)
One of the co-ordinators of Gemini, she is worth her weight in gold. A Goddess of the decks, she will blend together the sounds of the mother and the universe to create a vortex that only she knows how to control. A veteran DJ for the Phoenix Family, she has stood the test of time and became one of the best female DJ's in the U.S.
Paradigm (Geomagnetic.tv / Maia Rec.)
Considered to be one of N. America's leading full-on DJ's, he has built a solid following over the past few years. Known for his mixing skills and powerfully emotional tracks, he has set a benchmark for twilight sets around the country. Signed by both Geomagnetic Rec. S.F. and Maia Rec. Mexico, he has shared the stage with some of the world's biggest acts.
*Christine* (Vaporvent Rec.)
Christine Webb is a California-based Seattle native that fell in love with psychedelic trance music in the late 90s. Christine was so captivated by psychedelic trance that in 2000 she moved to the hub of the West Coast's largest psy-trance scene, the San Francisco Bay area. Over the years since the move, Christine has co-hosted the psy-trance radio show "Highway 604," thrown countless parties at the "Santa Cruz Trance Mansion" and in 2004 was asked to join Vaporvent Records as a label DJ and artist. She has played clubs and festivals across North America, headlining with such acts as: Hallucinogen/Shpongle, X-Dream, Sirius Isness, GMS, Atomic Pulse, Dino Psaras, Mekkanika, Earthling, Paul Taylor, Wizzy Noise, Silicon Sound, + many more. Her music collection ranges from full-on psy-trance, to dreamy atmospheric downtempo. Christine is down to play any timeslot, from a building opening set to a mid-night
stomper to a beautiful sunrise journey. She has a collaborative track out on Chromatone: Chromaconnection (Track 2 Exestentialist Detectives) and also did the cover artwork for this cd. www.vaporvent.com
Michael Liu (Secret Psychedelica)
Michael is one of the pioneers of the psy scene here in the Bay Area. He ran the longest psy club to date here ( Secret Psychedelica) with 6 yrs. under his belt. In his 11 yrs. of DJing, he has played with the best. Making his appearance with us after 4 yrs., it will be nice to see and hear this psy veteran.
Spyros (Psytribe)
In the southern part of the Cali continent, Spyros is one of the leaders of the "Psytribe Collective" in L.A. Bringing with him the knowledge of a thousand years, this spiritual being will enlighten us to the flavor of the evening. His DJ skills are #1 and showmanship superb. Look to the sky's when he plays, the ships will be arriving.
Mulu (Paragon Family)
Mulu is an experienced psytrance DJ that has been mixing for over 5 years. From South Africa, Mulu has spun on 3 continents, and is currently within the redwoods of northern California. has produced under name Krotovina, but nothing released.
Nick Synergy (OverMindWorks)
Nick Synergy hails from the southern Midwest. After some experience as a mainstream DJ, he caught the techno bug in 1992, ironically from the radio. The newfound rave culture also fascinated him, and thus he became increasingly absorbed by DJing and electronic music. He began beat matching in 1995 and has been immersed in many facets of underground dance culture ever since. He's a bit of an idealist, but something of a realist. He has a benevolent nature and brings a solid work ethic to creating and promoting events. Gravitating toward the funky, groovy, and progressive sides of electronic music, the dynamic vibe this man carries is best demonstrated by the music he plays.
Nagual (Phoenix Family)
John O'Connell is one of the founding members of Full Circle Pro. and the Phoenix Family Collective. He has been missing in action for the last 2 years and is making a comeback in 07'. Living in San Diego, he has been busy writing material and soaking up the sun. We are proud to have back in the saddle.
Jeto (Psytribe)
Jeto is the solo psy trance project of Vivan S. Vivan originally from Bombay, India relocated to Los Angeles, California in early 2000. He started attending local psy trance parties and was signed as a Label DJ to Kagdila Records. Since then he has under his belt his own compilation and a handful of releases. Jeto is a master of high-energy full-on sounds with his own signature twist. He is constantly working in his studio making tracks. Stay tuned for upcoming releases on Divine Balance.

Takuan [...The Pickled Radish] (Phoenix Family / Touch Samadhi)
Coming from the woods of Santa Cruz, this shaman of the decks has been getting his message across for many years through spiritual shrine building. Now with the power of music in him, he can now fully express himself to the dancers like never before. Don't miss this fully funktional freak out in an afternoon setting.
----------------------------------------------------------------------------------------
Additional Info to come so stay posted. Let's make this the gathering we all been dreaming about.
This is your call to action to get everyone involved. Let's get ready to "RUMBLE".