$20 PRESALE AVAILABLE NOW (CREDIT,DEBIT, BANK, PAYPAL) ($25 at the door)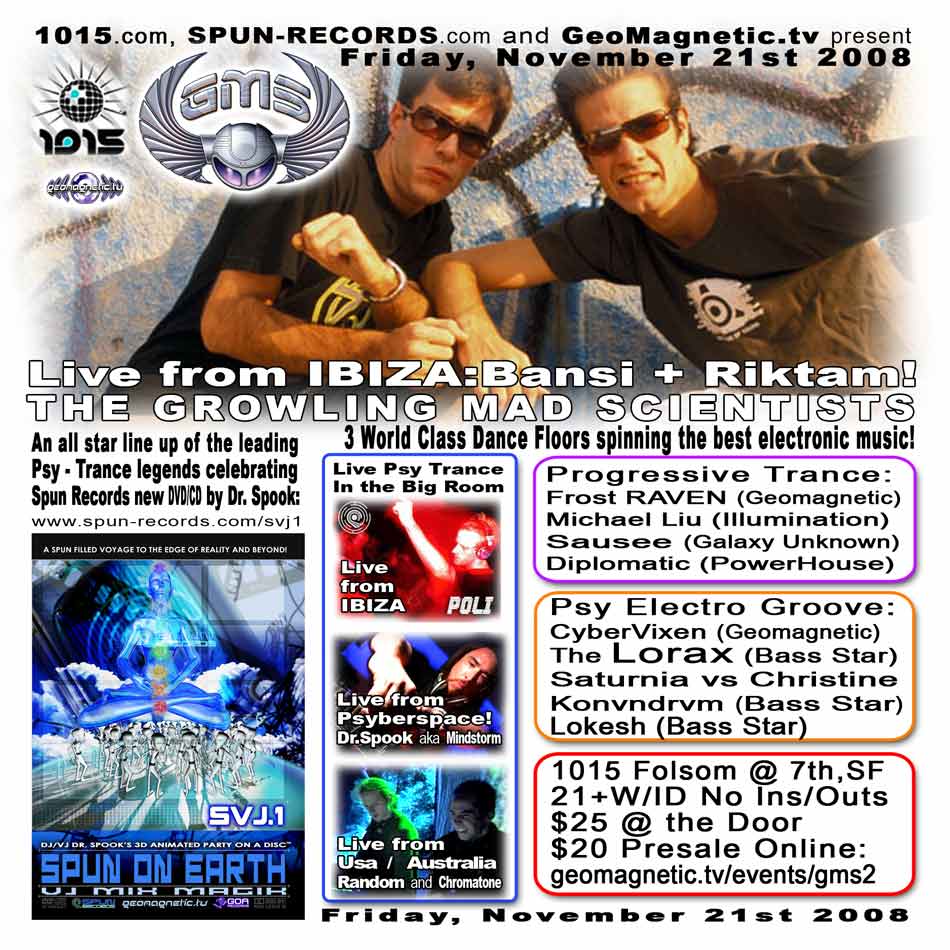 Hi everyone! Get ready for a real mind mending experience this Friday! We have gathered together the most respected and talented group of psychedelic performers for a truly memorable event. We are celebrating several upcoming releases for the live performers. Mindstorm (Spook) has a new DVD/CD on Spun Records about to be released. Random is sitting on 4+ new albums and is on a constant world tour. Chromatone just got signed to Nano Records and 2 recent artist additions to the GeoMagnetic roster, Frost RAVEN and The LORAX have both just completed their debut albums. Cybervixen has her 2nd slammin new album full of downtempo electro hits to share and all the DJs have been fine tuning their sets all month in eager anticipation. We are totally excited to see you all this weekend for what promises to be the freakiest psychedelic experience this city has experienced all year!
***
Growling Mad Scientists (GMS) and Friends!
SPUN ON EARTH, Spun Rec and Geomagnetic Label Party
Friday, November 21st, 2008

On Friday, November 21st, 2008, Spun Records, Geomagnetic.tv and 1015.com invite you all to experience the tranceformation of San Francisco's premier party venue into a psychedelic wonderland of epic proportions! We look forward to seeing all our friends from far and near for a special gathering featuring your favorite local electronic music producers and DJs from across the bay area, west coast, and the world! Join us to celebrate at our favorite mega venue with the hottest trance producers from Ibiza who will be returning for a special US performance that will showcase their all new full live show of psychedelic trance. Please help us give a warm welcome back to the legendary Spun Records recording artists...

Growling Mad Scientists (GMS) *LIVE*
SPUN/TIP/Coast2Coast/GMS Music – IBIZA
http://www.discogs.com/artist/GMS

Main Room // Fullon / Live psytrance >
(Hosted by www.spun-records.com )

RIKTAM & BANSI Tagteam Dj Set
POLI *PA* / spun (Ibiza)
RANDOM & CHROMATONE *PA*/ geomagnetic / nano
MINDSTORM A/V *PA*/ spun / geomagnetic
http://spun-records.com/svj1
Front Room // electro / power-house / progressive >
(Hosted by www.PowerHouse-Rec.com )

CYBERVIXEN *PA* - hearts eye / geomagnetic
http://geomagnetic.tv/labels/HeartsEye/HERCD003-Cybervixen-UltraVenus/
Frost RAVEN aka Dustin Musser *PA* / geomagnetic
http://geomagnetic.tv/labels/DigitalDrugs/DIGICD011-FrostRaven-StarMuse
The LORAX *PA* - / geomagnetic
http://geomagnetic.tv/labels/Geo-Basstar/GEOCD040-TheLorax/
KONVNDRVM *PA* / basStar records / geomagnetic
DIPLOMATIC – powerhouse-rec.com
LOKESH – powerhouse-rec.com / geomagnetic

Up Stairs // psytrance >
(Hosted by www.psytrance-records.com )

GATTO MATTO *Birthday Set* - / greensector / synchronize
MICHAEL LIU / powerhouse-rec.com
*CHRISTINE* / vaporvent
SAUSEE / galaxy unknown / goa rec
SATURNIA / phoenix family / cosmic leaf
DOCTORSPOOK / phoenix family / goa records

Down Stairs // Breaks / Dubstep / and more… >
(Special guests Tba)

...more info/timeslots to be announced...
www.geomagnetic.tv/events/gms2

details >
visuals / GEOMAGNETIC.TV
intergalactic garden / CLYMAX + SATURATED MIND+ TWISTED TRAVELLER
3D stretch graffitii / PSYLOTUS + EYEZMIND (Tony Rivera)
San Francisco CA // 10pm to 5am+ // 21+ // 1015.com / 1015 Folsom @ 7th Street in San Francisco

tickets >
$25 @ The Door
Limited time: $20 Advance presale tickets are available now online:
(https://www.paypal.com/cgi-bin/webscr?cmd=_s-xclick&hosted_button_id=1296563 )
line up> (all info subject to changes)
| | |
| --- | --- |
| Front Room | |
| 10pm | Cybervixen |
| 11pm | Frost RAVEN |
| 12am | Diplomatic |
| 1am | Konvndrvm |
| 2am | Lokesh |
| 3am | The Lorax |
| 4am | Saturnia (either area) |
| | and / or Spook Closes |
| Upstairs | |
| 12am | Michael Liu |
| 1am | Sausee |
| 2am | GattoMatto |
| 3am | Christine |
| 4am | Saturnia (either area) |
| | |
| Main Room | |
| 1130pm | Mindstorm |
| 1230am | Random vs Chromatone |
| 130am | Poli |
| 230am | GMS Live |
| 3am | GMS DJ set |
| 4am | |
| | |
| Deco Crew | |
| Stretchy Booth | Tony Eyezmind (Booth) |
| Cloth Sculpture | Psylotus (Main Room) |
| Mega Tapestry | Hriztos (Main Room) |
| More Tapestry | Tao Deco (Upstairs) |
| | |
| Visuals | Random, Spook, Helios, Chromatone |

We look forward to seeing you there! =D~
More info on Mindstorm/Doctorspook's new DVD "Spun On Earth" (Spun/Geomagnetic Rec) | http://spun-records.com/svj1

***