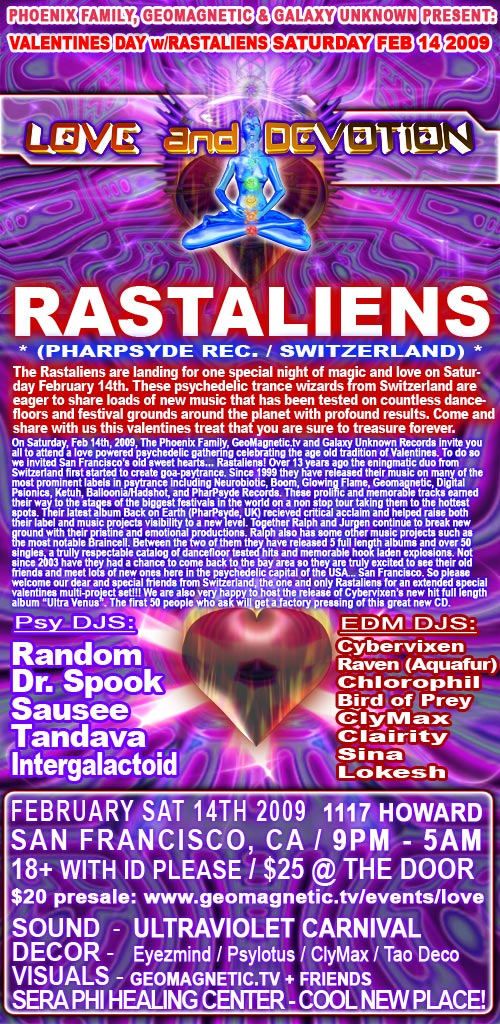 Presale Tickets Sales are closed. See you there! =)
Quick update!
Jurgen and Ralph are here and totally excited to throw down an epic set! They are so happy to see their old friends in San Fransco and meet all the new folks too! The space is totally decorated including Tandava bringing out an old school CCC favorite, Josie is putting the finishing touches on the Valentines alter, The Sera Phi Kitchen has gone all out to create a FEAST! The vibro floor upstairs is tuned. The main Room sound has x2 more speakers than last weeks party! Happy VALENTINES SAN FRANCISCO! We love you! …. PS the Presale tickets are now closed. Thanks to everyone who bought online, please print your paypal receipts! And see you soon! =)
~ Dr. Valentine
---------------------------------
Hi everyone! It was great to see you all at Psylebration having so much fun at one of our new spaces! We get to come back and play at the Sera Phi Healing center again this Saturday. We will also upgrade the sound system x2 as well as add more fans and refreshments this time too. The line up has grown a little since we did our initial teaser posting last week so check out all the news below =)…
~> Please post this announcement to all family lists! See ya there! <~
***
LOVE and DEVOTION: Valentines with the RASTALIENS!
Saturday, Feb 14th, 2009
On Saturday, Feb 14th, 2009, The Phoenix Family, GeoMagnetic.tv and Galaxy Unknown Records invite you all to attend a love powered psychedelic gathering celebrating the age old tradition of Valentines. To do so we invited San Francisco's old sweet hearts… Rastaliens! Over 13 years ago the eningmatic duo from Switzerland first started to create goa-psytrance. Since 1999 they have released their music on many of the most prominent labels in psytrance including Neurobiotic, Boom, Glowing Flame, Geomagnetic, Digital Psionics, Ketuh, Balloonia/Hadshot, and PharPsyde Records. These prolific and memorable tracks earned their way to the stages of the biggest festivals in the world on a non stop tour taking them to the hottest spots. Their latest album Back on Earth (PharPsyde, UK) recieved critical acclaim and helped raise both their label and music projects visibility to a new level. Together Ralph and Jurgen continue to break new ground with their pristine and emotional productions. Ralph also has some other music projects such as the most notable Braincell. Between the two of them they have released 5 full length albums and over 50 singles, a trully respectable catalog of dancefloor tested hits and memorable hook laden explosions. Not since 2003 have they had a chance to come back to the bay area so they are truly excited to see their old friends and meet lots of new ones here in the psychedelic capital of the USA... San Francisco. So please welcome our dear and special friends from Switzerland, the one and only Rastaliens for an extended special valentines multi-project set!!! We are also very happy to host the release of Cybervixen's new hit full length album "Ultra Venus". The first 50 people who ask will get a factory pressing of this great new CD.
RASTALIENS
(Pharpsyde Rec – Switzerland)
Main Room // progressive / fullon / psytrance :::
CYBERVIXEN (Live PA) / Geomagnetic / Heart's Eye
RANDOM (DJ PA Set) / Geomagnetic
DOCTORSPOOK / Geomagnetic /Goa records
SAUSEE / Galaxy Unknown/ Goa records
BIRD OF PREY (aka Intergalactiod) / Dawn Patrol
Up Stairs // dubstep / electro / techouse / trance / breaks :::
CHLOROPHIL / hearts eye / bass-star
CYBERVIXEN (DJ Set) / Geomagnetic / Heart's Eye
RAVEN aka AQUAFUR (Live PA) / Waterjuice / CCC
TANDAVA / CCC / Peace Tour
INTERGALACTOID / dawn patrol
ClyMAX / dreamtime / psymbolic
CLARITY / powerhouse / psymbolic
SINA / phoenix family
LOKESH / goa records
timeslots >
Main Room:::
9:00 – 9:45 = Bird Of Prey
9:45 - 10:30 = Cybervixen Live PA (Live Vocals with With Drummers)
10:30 - 11:30 = Sausee
11:30 - 12:45 = Random
12:45 - 2:00 = Doctor Spook
2:00 - 5:00 = Rastaliens
Upstairs Healing Chamber:::
9:00 – 10:00 = Sina
10:00 - 11:00 = ClyMax
11:00 - 12:00 = Clairity (Theta Records)
12:00 - 1:00 = Intergalactoid
1:00 - 2:00 = Cybervixen
2:00 - 3:00 = Raven aka Aquafur
3:00 - 4:00 = Tandava
4:00 - 5:00 = Chlorophil vs Iniate
5:00 - 6:00 = Lokesh
details >
visuals / GEOMAGNETIC.TV + Friends
intergalactic gateways / TONY EYEZMIND + ClyMAX + PsyLotus
environment + atmosphere / TAO DECO + Action Rentals Mega Fans
hosts / Mendo's Organized Chaos Experiment + Sera Phi Magic Kitchen
sound systems / ULTRAVIOLET Carnival + Sera - Phi Surround
1117 Howard @ 7th St. San Francisco CA // 9pm to 5am+ // 18+ //
Tickets >$25 at the Door
http://www.myspace.com/rastaliens
http://www.myspace.com/braincellstudio
http://www.discogs.com/artist/Rastaliens
http://www.discogs.com/artist/Braincell+(3)
http://www.rastaliens.de/index2.htm
http://www.geomagnetic.tv | http://www.sausee.com
***
-----------------------------------------------------------------------------
Next Events…
Up Coming Events:
March 6th ::(Psymbolic 6? could it be??)
March 14th ::(Pisces with Deedrah from Ibiza)
March 21st ::(Equinox w/ Mad Maxx aka Sirius Issness from Barcelona)
April 4th ::(Galactic Funk feat Solar System from Israel + lots more)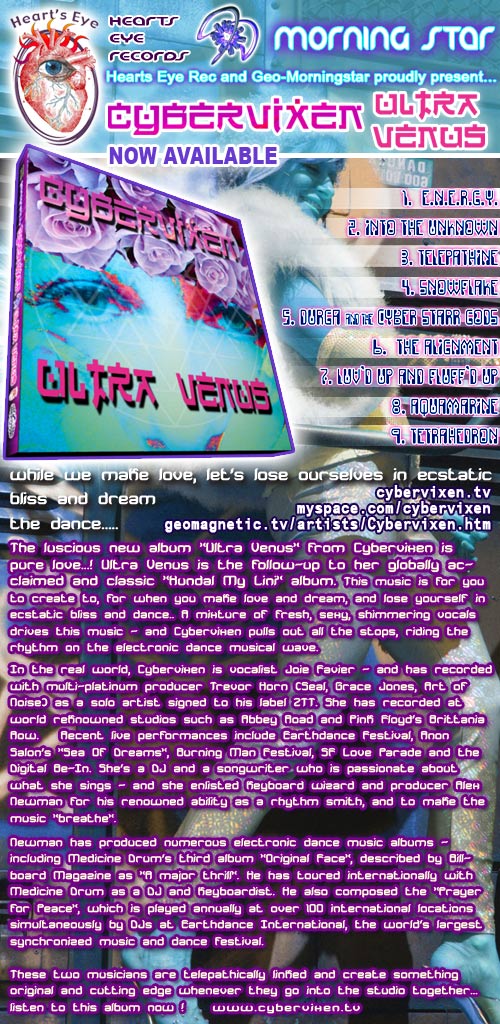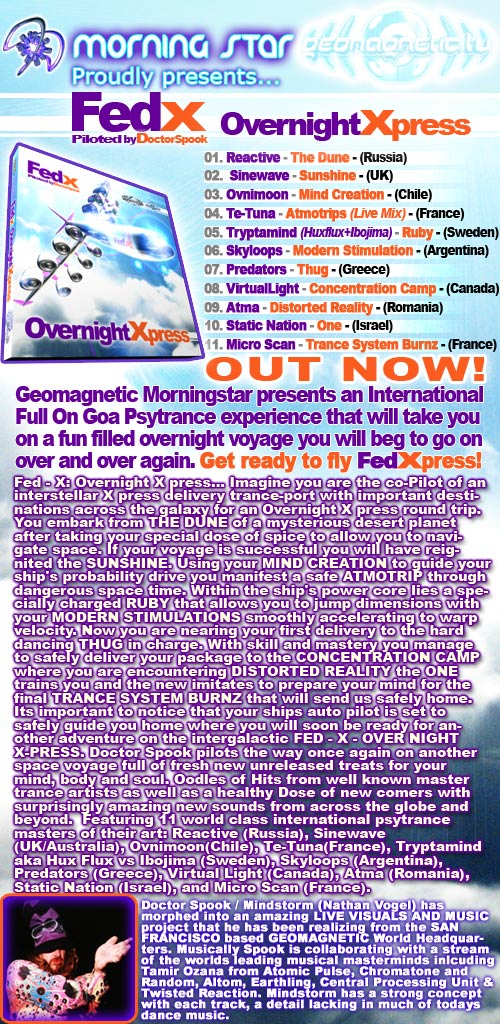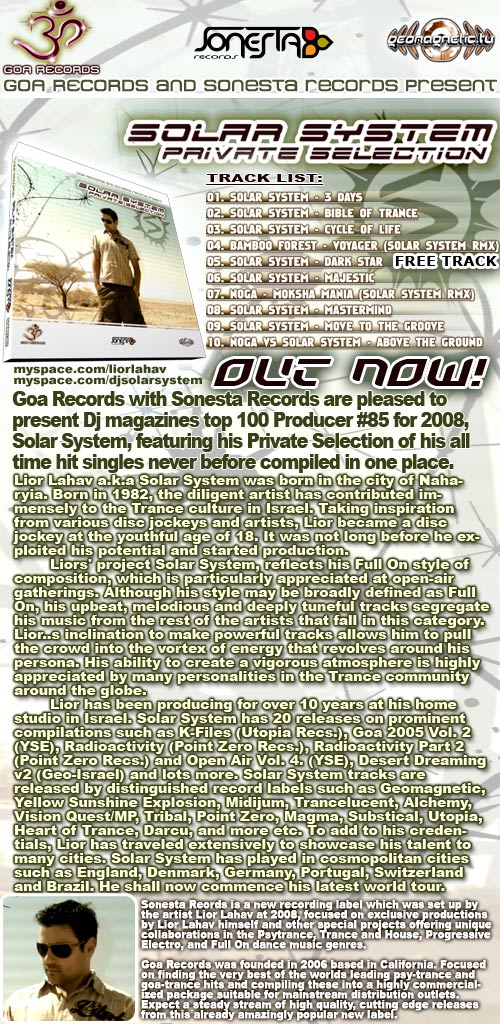 More Latest Releases…
DIGICD011 Frost – Raven (Out now on Psyshop and around the world!)
http://geomagnetic.tv/labels/DigitalDrugs/DIGICD011-FrostRaven-StarMuse/
GOAREC005 Solar System (Out now on Psyshop and around the world!)
http://geomagnetic.tv/labels/Goa-Records/GOAREC005-SolarSystem/
GEOCD036 Dj Salva – Virtual Chronicles (@ Psyshop & around the world!)
http://geomagnetic.tv/labels/GEO-Morningstar/GEOCD036-DjSalva-VirtualChronicles/
GEOCD037 Jirah – Journeys (Out now on Psyshop and around the world!)
http://geomagnetic.tv/labels/GEO-Morningstar/GEOCD037-Jirah-Journeys/
GOAREC003 – Goa Cytopia v.1.1 (feat. 10 award winners)
http://geomagnetic.tv/labels/Goa-Records/GOAREC003-Goa-Cytopia1.1
GOARECO04 – Goa Cytopia v.1.2 part 2 of the results from the Competition!
http://geomagnetic.tv/labels/Goa-Records/GOAREC004-Goa-Cytopia1.2