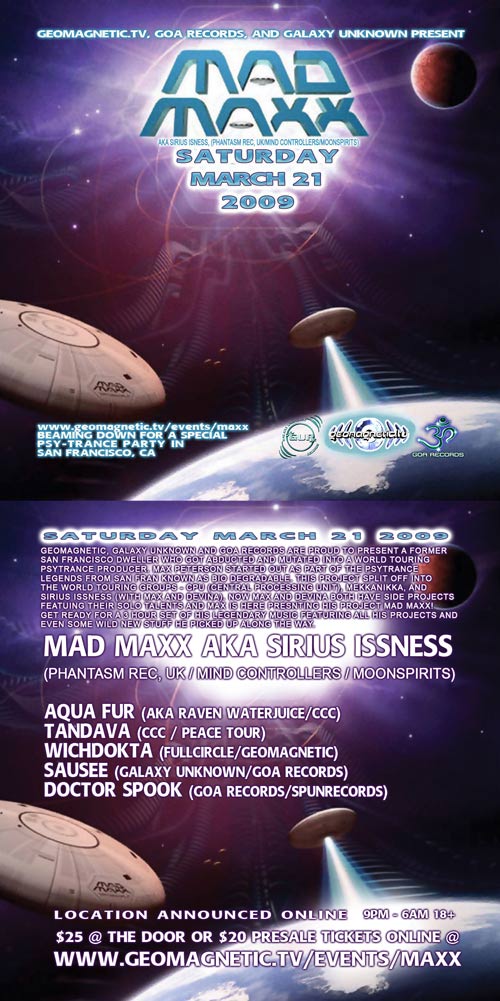 GEOMAGNETIC, galaxy unknown and goa records are proud to present a former san francisco dweller who got abducted and mutated into a world touring psytrance producer. Max peterson started out as part of the psytrance legends from san fran known as bio degradable. This project split off into the world touring groups - CPU (Central Processing unit), Mekkanikka, and sirius issness (with Max and devina). Now max and devina both have side projects featuing their solo talents and max is here presnting his project mad maxx! get ready for a 3 hour set of his legendary music featuring all his projects and even some wild new stuff he picked up along the way.
News bulletin: Random is not going to be able to perform but Wichdokta is playing in his spot. Max is IN TOWN and totally Excited to blast off with us into another dimension. The venue is confirmed and very happy to host this old school style gathering! Wichdokta is bringing a special stack of finely tuned speakers and sound gear and will perform a special neo-goa morning set after Max from 5-6.
MAD MAXX aka Sirius Issness
(phantasm rec, UK / mind controllers / moonspirits)
AQUA FUR (aka Raven Waterjuice) Live PA
TANDAVA (ccc / peace tour)
WICHDOKTA (full circle / phoenix family)
SAUSEE (Galaxy unknown)
DOCTOR SPOOK (phoenix family / spunrecords.org)
Tickets: $25 @ the door, please =)
Location of the Event is now revealed, Map and address below. This space is a private and safe venue in the heart of San Francisco's Soma district that is near to public transportation and plenty of parking. We ask that you carpool as much as possible to minimize our footprint on the local area. Since this is a private space we also request that you respect their special magical location.
Sound: FULL CIRCLE SOUND
Deco: Clymaxx, Tao Deco, Magic Alters, Psylotus, CCC, Full Circle and Painting & Sculptures by Jeremiah Allen Welch
Visuals: Geomagnetic.tv and Phoenix Rainbow Puddles
Atmosphere: Action Rentals Mega Fans + More!
9pm - 6am, 18+ with ID please.
Location: 58 Tehama Street @ 2nd St. San Francisco.
Line Up:
9-10 Jovis vs Aquafur PA (New live tracks w/Didge!)
10-11 Aquafur PA(Uptempo)
11-12 Sausee (progressive goa into uplifting fullon)
12-1 Tandava (Fullon/neoFullon)
1-2 Doctor Spook (Psychedelic FullOn Goa)
2-5 Mad Maxx (full power multi project performance)
5-6 Wichdokta (Neo-Goa Full On)
Max's Bio:
MAD MAXX is the solo project of Max Peterson. Max was born in San Diego, California in 1979, and spend most of his teenage years in France, and then went on to live in places such as America, Mexico, and is now residing in Barcelona, Spain. Max has been involved with the Music scene for over 10 years. After having opened with some friends one of the first trance shops in northern America in 1996 (The ion exchange), Max started his career as a Dj back in San Francisco, playing for all the Bay Area's trance heads, for groups such as the CCC, and in all the warehouse and outdoor events happening at the time. Quickly, Max gained respect for his Dj sets, and was starting to play in Canada and other cities in the USA. In the year 2000, Max joined up with some friends ( Samy Guediche , CPU) and ( Nicolas Oesch, Mekkanikka ) to create the band called BIODEGRADABLE. After some time in 2001, they released their first album called Phaser which was a great success at the time in the psychedelic scene and became a platform for all members in the future. In 2001, Max joined up with Davina Elmosnino and created the Trance Project formerly known as SIRIUS ISNESS. Receiving great success from the public, Sirius Isness went on to release countless tracks on the most prestigious labels in the trance scene, 3 albums and 1 compilation. The first album was released on Moon Spirits records in 2004, the second on Mind Control Records in 2005 and the third was released end of 2006 on Phantasm records, accompanied by their compilation , Mind your own Isness, released around the same time. Sirius Isness has travelled to almost every country where parties can happen. Their most popular destinations are Japan, Brasil, Mexico and Portugal.... Max has now started his solo project under the name of MAD MAXX. MAD MAXX is the result of many years of hard work, perfecting a type of sound, embodying all the travels, experiences and parties that have happened in the past 10 years. The music is a mix of trancey , ethnic and deep sounds, with a strong kick and solid bassline, an electro touch, emotional chants and at time nostalgic atmospheres, with a BPM range from 140 to 145 in general. All of this in a whirlwind of psychedelia of course.... MAD MAXX has already delivered his brand new live set to all trance freaks in the world and has collaborated with numerous artists...including GMS, POLI, SPACE TRIBE, MASSIVE, XSI, BIOGENESIS, PAINKILLER , MADNETIC, PUZZLE, PUREPRESSURE, VOYAGER (aka Altom) and more.... Be ready for a mystical journey to the inner self..... Mad Maxx album released april 2008 on phantasm records...Get your copy
http://www.discogs.com/artist/Max+Peterson?anv=Mad+Maxx+(3)

Sirius Issness Discography and Bio:
http://www.discogs.com/artist/Sirius+Isness http://www.myspace.com/therealsiriusisness

More info coming soon. Please check the web site for more details. =)
-----------------------------------------------------------------------------
Next Events…

March 14th ::(Pisces with Deedrah from Ibiza)
March 21st ::(Equinox w/ Mad Maxx aka Sirius Issness from Barcelona)
April 4th ::(Galactic Funk feat Solar System from Israel + lots more)
April 24th ::(THE 420 Experience 9th annual)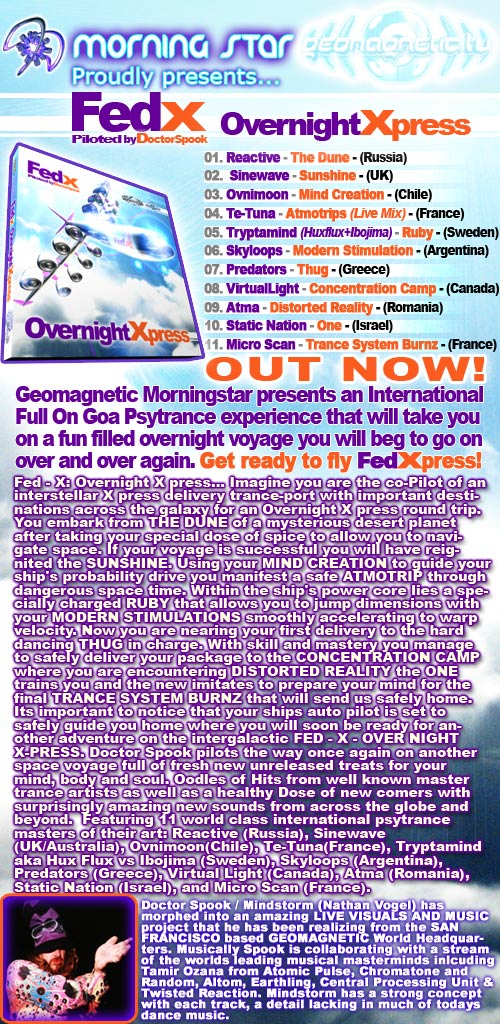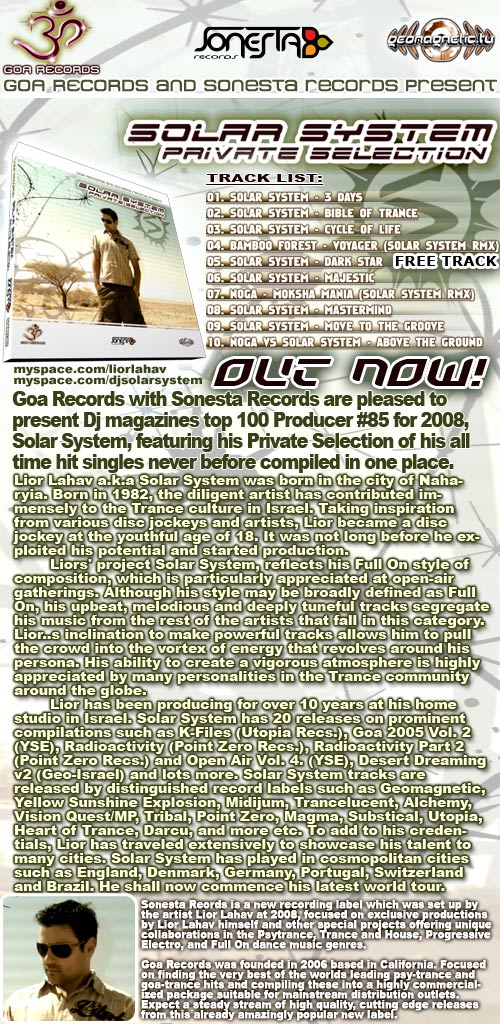 More Latest Releases…
DIGICD011 Frost – Raven (Out now on Psyshop and around the world!)
http://geomagnetic.tv/labels/DigitalDrugs/DIGICD011-FrostRaven-StarMuse/
GOAREC005 Solar System (Out now on Psyshop and around the world!)
http://geomagnetic.tv/labels/Goa-Records/GOAREC005-SolarSystem/
GEOCD036 Dj Salva – Virtual Chronicles (@ Psyshop & around the world!)
http://geomagnetic.tv/labels/GEO-Morningstar/GEOCD036-DjSalva-VirtualChronicles/
GEOCD037 Jirah – Journeys (Out now on Psyshop and around the world!)
http://geomagnetic.tv/labels/GEO-Morningstar/GEOCD037-Jirah-Journeys/
GOAREC003 – Goa Cytopia v.1.1 (feat. 10 award winners)
http://geomagnetic.tv/labels/Goa-Records/GOAREC003-Goa-Cytopia1.1
GOARECO04 – Goa Cytopia v.1.2 part 2 of the results from the Competition!
http://geomagnetic.tv/labels/Goa-Records/GOAREC004-Goa-Cytopia1.2