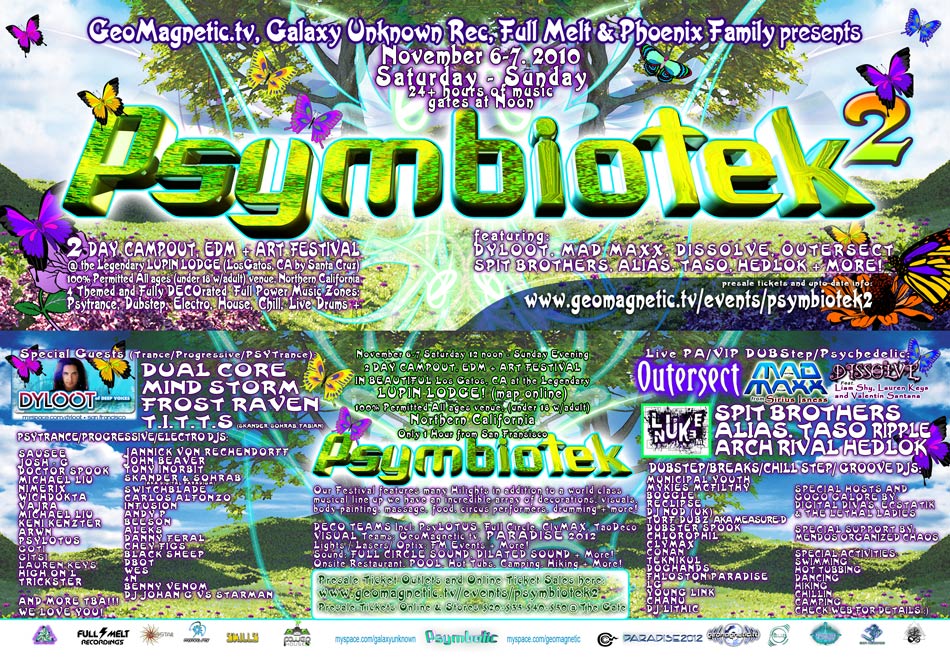 THE TIME SLOTS!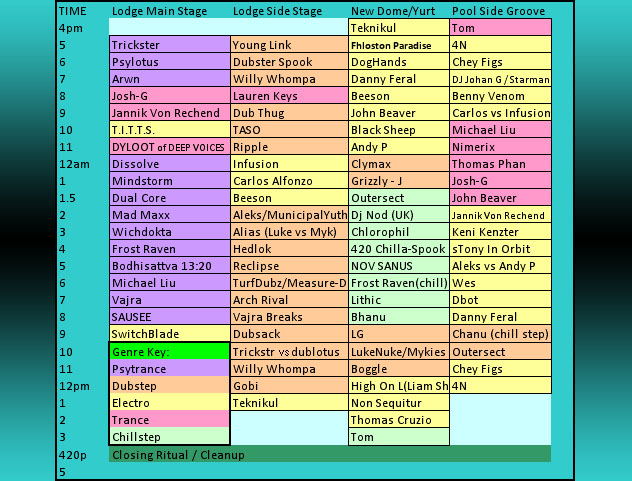 TIME
Lodge Main Stage
Lodge Side Stage
New Dome/Yurt
Pool Side Groove
4pm
Teknikul
Tom
5
Trickster
Young Link
Fhloston Paradise
4N
6
Psylotus
Dubster Spook
DogHands
Chey Figs
7
Arwn
Willy Whompa
Danny Feral
DJ Johan G / Starman
8
Josh-G
Lauren Keys
Beeson
Benny Venom
9
Jannik Von Rechend
Dub Thug
John Beaver
Carlos vs Infusion
10
T.I.T.T.S.
TASO
Black Sheep
Michael Liu
11
DYLOOT of DEEP VOICES
Ripple
Andy P
Nimerix
12am
Dissolve
Infusion
Clymax
Thomas Phan
1
Mindstorm
Carlos Alfonzo
Grizzly - J
Josh-G
1.5
Dual Core
Beeson
Outersect
John Beaver
2
Mad Maxx
Aleks/MunicipalYuth
Dj Nod (UK)
Jannik Von Rechend
3
Wichdokta
Alias (Luke vs Myk)
Chlorophil
Keni Kenzter
4
Frost Raven
Hedlok
420 Chilla-Spook
sTony In Orbit
5
Bodhisattva 13:20
Reclipse
NOV SANUS
Aleks vs Andy P
6
Michael Liu
TurfDubz/Measure-D
Frost Raven(chill)
Wes
7
Vajra
Arch Rival
Lithic
Dbot
8
SAUSEE
Vajra Breaks
Bhanu
Danny Feral
9
SwitchBlade
Dubsack
LG
Chanu (chill step)
10
Genre Key:
Trickstr VS dublotus
LukeNuke/Mykies
Outersect
11
Psytrance
Willy Whompa
Boggle
Chey Figs
12pm
Dubstep
Gobi
High On L(Liam Shy & Lauren Keys)
4N
1
Electro
Teknikul
Non Sequitur
2
Trance
Thomas Cruzio
3
Chillstep
Tom
420p
Closing Ritual / Cleanup
5
Hi everyone! =) This years's Psymbiotek 2 Festival is fully confirmed and at a great LOCAL venue only 1hr and 15min from San Francisco!~ We have 4+ stages both outdoor and indoor going for over 24 hours! Magical Deco, Visuals and Sculpture installations, Live Body Painting, camping, swimming, hottubs, restaraunt on site and more! Price starts at $15 now and increments to $40 night of and $50 after midnight so get your tickets soon and plan to arrive early! =-) see you there!~
LUPIN has CREDIT CARD machines but not ATMs. That means you can buy drinks and food at their restaurant and buy tickets to get in the show... but if you want to have CASH for any reason at Lupin... bring it with you. =)

Live Acts/Special Guests Include: (lots more TBA) check the Facebook page for up to the minute reports!
DYLOOT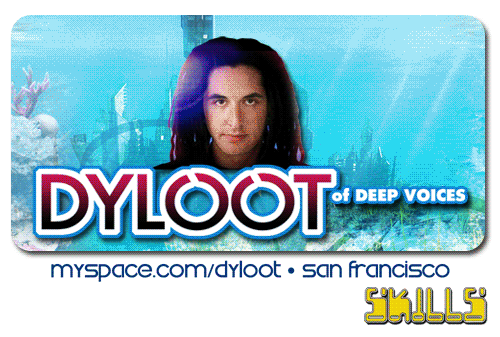 http://www.myspace.com/dyloot
MAD MAXX

http://www.myspace.com/madmaxxspace
DISSOLVE

dissolve-music.com
OUTERSECT

http://www.outersect.net/
DUAL CORE www.myspace.com/dualcorespace
FROST RAVEN www.myspace.com/frostraven
MINDSTORM http://myspace.com/mindstorm1
ALIAS.http://soundcloud.com/theoriginallukenukem/alias-flavor-saver

GeoMagnetic.tv, Galaxy Unknown Rec, Full Melt & Phoenix Family presents:
PSYMBIOTEK 2: Music, Art & Dance Festival (At Lupin Lodge) 18+/21+ Bar
[[ Special Alert!! - 6 YURTS & 1 CABIN for RENT: doctorspook@hotmail.com ]]
Saturday & Sunday
Gates @ Noon on Sat
Music tilll 4:20 Sunday
November 6-7 2010
LUPIN HAS ROOM FOR OVER 1000 people!
4+ STAGES of DANCE
and CHILL Grooves!
2 DAYS and 1 NIGHT of NON STOP FUN!
AMAZING CAMPING AND SWIMMING @ the
BEAUTIFUL & PRISTINE LUPIN LODGE!
100% permitted legal venue!
18+ with ID / 21+ Bar
Featuring a wide range of the leading djs spinning TRANCE, PSYTRANCE, DUBSTEP, ELECTRO HOUSE & CHILLSTEP+
Psymbiotek is back! Many considered last years festival to be the pivotal moment for their transition into a wonderful new way of playing together in nature! This year we have moved the venue closer to home with the legendary LUPIN LODGE! Hosting 4 epic stages of mind expanding and booty shaking dance music epiphanies! Prepare your self to be TRANCE PORTED to ANOTHER DIMENSION full of friends, family and the bay areas top DJs!~ Presale tickets are now on sale at the web site and going fast! Limited amounts tickets @ each pricing tier available each week till the day before the show. Full DJ Lineups and a map of the stages will be available on line VERY SOON! All the crews involved with this epic annual festival are totally stoked to share their magic with us all! Tons of new information will be announced as each aspect is confirmed. Thanks to everyone who is making this years PSYMBIOTEK the most amazing yet! See you there soon!!!
--- > SPECIAL ANNOUNCEMENT! <---
if you want to reserve a YURT (ie a private lockable room) they are available first come first serve for $100 each. We have 2 left. You must pay the full $100 via Paypal to guarantee reservation... Each Yurt has a QUEEN SIZE BED plus enough room on the floor for another inflatable mattress. Rooms come with lock n key, Also all rooms have Electricity amd a heater too.
email: doctorspook@hotmail.com ASAP since they are running out fast! only serious inquiries who are ready to rent please. =)
:::::::: Camping Details :::::::::::::
there are over 100 developed camping spots with a leveled and cleared area for tents etc... There are also several large GROUP theme camp zones for people who want to posse up and make a... party zone... Lupin has 110 Acres of land for camping and hiking etc with Redwood trees and forest area. For campers get there before 5pm since it gets dark early and finding the camping spots in the dark is not as easy... =)
Live Acts/Special Guests Include: (and more TBA)
DYLOOT of DEEP VOICES [www.myspace.com/dyloot]
OUTERSECT [www.myspace.com/outersect]
DISSOLVE [www.myspace.com/dissolveyourmind]
DUAL CORE [www.myspace.com/dualcorespace]
MAD MAXX [http://www.myspace.com/madmaxxspace]
T.I.T.T.S (French, Filtered, Tech House) [Skander, Sohrab, Fabian]
FROST RAVEN [www.myspace.com/frostraven]
MINDSTORM [http://myspace.com/mindstorm1]
TASO [http://soundcloud.com/taso]
ALIAS. [http://soundcloud.com/theoriginallukenukem/alias-flavor-saver]
including DJs:
Jannick Von Rechendorff (Trance)
Beeson (Electro House) [B33 Events]
John Beaver (Trance, House)[Skills]
Josh-G (Hard Trance)[Geomagnetic]
SwitchBlade (Electro House)[Zapatistas SF]
Andy P (House)
Carlos Alfonzo (Electro House) [Vibrance Recordings]
Infusion (ElectroHouse)
Skander & Sohrab (Electro House) [Digital Paradigm/Geomagnetic]
Sausee (Psytrance [Galaxy Unknown/Geomagnetic/Spun]
Dr. Spook (Psytrance) [Geomagnetic]
Vajra (Goa/Oldschool Psytrance)[Blue Room/CCC]
Keni Kenzter (Electro/Trance) [Team Splif / CCC]
Michael Liu (Psytrance) [Pisces 2011/Illumination Rec]
Wichdokta (Psytrance) [Full Circle/Geomagnetic]
Ripple (Dubstep) [Full Melt Recordings]
Reclipse (Dubstep) [Trauma/Dubstar]
Mykies McFilthy (Dubstep) [840 Ent/Bass Star]
Hedlok [Wayside Rec/Bass Star]
Luke Nukem (Dubstep) [Geo-Basstar/Bayssline]
Municipal Youth (Dubstep) [Geomagnetic]
Turf Dubz aka Measure-D (Dubstep)[Oakesterdub]
Arch Rival (Dubstep) [Oaksterdub/Dubstar]
Grizzly – J (Dubstep/Chillstep) [Bass star Rec]
Clymax (Dubstep/Tech/Breaks) [Dubauchery/Geomagnetic]
Dubster Spook (Dubstep) [Dubstar]
DjNod (Chillstep/Dubstep) [T.O.U.C.H Samadhi, UK]
Nov Sanus (Chillstep/Downtempo) [Geomagnetic/Bass-Star]
Danny Feral (Fidget) [Wayside Rec]
Lauren Keys (Trance) [Dissolve/Acid Totem]
High On L(Liam Shy & Lauren Keys)
Arwn (Techno/Psytrance) [Dilated Sound]
Nimerix (Trance/Psytrance)[FM Events/Geomagnetic]
Aleks (House) [Vibrance/A10/Mizumo]
Chey Figs (Funky House) [DBLSTACKEDENT]
Chlorophil (Synchronos Recordings)
sTony in Orbit (Electro/Progressive/Minimal)
Black Sheep (Electro House) [ToniK/BAE]
DjWesV.2 (Electro) [http://soundcloud.com/djwes-v2]
dBot (house) [Robot Ears SF/Grapesoda]
DogHands (Tech step/Drum And Wonky) [VoodooZulu Prod. SC/SanDiego]
Psylotus (Psytrance) [Synchronize/Geomagnetic]
Trickster (Psytrance/Dubstep) [Geomagnetic/Mendos Org. Chaos]
Benny Venom (electro) [www.bennyvenom.com]
Dubsack (dubstep/chillstep)
Chanu (chill step)
DJ Lithic (Chill step)
4N (Electro)
LG (chillstep/Dubstep)
Young Link
Bhanu aka Moksha (chill) [http://www.myspace.com/mokshastat]
Featuring Live Painting by Jeremy Robinson
http://www.facebook.com/jeremy.robinsonartist
and so much more!~
FYI: The ticket price covers your entrance to Lupin for the entire event. The only fee that might be charged is PARKING if you dont carpool. If you carpool with 3 or more people parking is free. Otherwise there is a $10 fee for parking.
Presale Tickets start @ $15 till Oct 10th. Each Week the price goes up by $5. The night of the show the price is $40 @ the door until Midnight when the price goes up to $50 so get their early to get a good camping spot and to park in the most choice lots. More info and non refundable will call presale tickets are now on sale at Geomagnetic for the price listed on the discount presale schedule (credit card/paypal/echeck etc) -
Non Refundable Discount Willcall Presale Schedule:
Willcall... its easiest that way... no chance of getting lost in the mail and we know you are coming to this location and thats where you need the tickets =-) so print your reciept for safety sake and bring the ID of the name that the tickets were bought under =)
until 10/10/10 ->$15 - (1st Tier Sold Out!)
until 10/17/10 ->$20 - (2nd Tier Sold Out!)
until 10/24/10 ->$25 - (3rd Tier Sold Out!)
until 10/31/10 ->$30 - (4th Tier Sold Out!)
until 11/05/10 ->$35 - (5th Tier Sold Out!)
Gate price 11/06/10 ->$40
11/07/10 -> After Midnight: $50
11/07/10 -> After 10am: $30
Hardcopy $33 Presale Tickets:
Ceiba Rec
1364 Haight Street
San Francisco, CA 94117
(415) 437-9598
Paramount Imports
455 Meridian Ave, San Jose
(408) 286-9839
Streetlight Records
980 S Bascom Ave, San Jose
(408) 292-1404
Streetlight Records
939 Pacific Avenue
Santa Cruz, CA 95060-4429
(831) 421-9200
Also Street Team Ticket Points include:
Eric Cederwall
Cryptic Raver
Lydia Jackson
Melanie Vassar
Michelle Marie Alexander
Vivian Wang
Valerie Louie
Dru Glover
Ali Bamf Perkins
Briggitte Bakr
Michael Liu
We will be celebrating a plethora of Birthday's including:
Michael Berkowitz <--- Deuce Tres (23)
Galdino Guijosa aka Nano <--- look for him playing his GUITAR
Yosh
& More!
Map and Directions to Lupin Lodge
From Los Gatos:

Take Hwy 17S to the first overpass (Bear Creek exit). Turn off on Old Santa Cruz Highway (parallels Hwy 17) and proceed 2 miles. Turn left onto Aldercroft Heights Road. Proceed over a small bridge, then veer to the right. Turn left immediately into the driveway at the 20600 sign. Follow it in about 1/3 mile to the office. Stop and register.

From Santa Cruz:

Take Hwy 17N past Summit Road about 2-1/2 miles to the blinking yellow light at Idylwild Drive, turn right. Turn left at the bottom (Old Santa Cruz Highway), turn right on Aldercroft Heights, veer right after the bridge. Immediately turn left into driveway at 20600 sign. Follow in about 1/3 mile to the office. Stop and register.
Lupin Lodge
(Gates @ Noon on Sat Nov 6th. Music @ 4:20pm till 4:20pm Sunday)
20600 Aldercroft Heights (zip code - 95033)
Los Gatos, CA
http://maps.google.com/maps?q=lupin+lodge&rls=com.microsoft:en-us:IE-SearchBox&oe=UTF-8&rlz=1I7ITVA_en&um=1&ie=UTF-8&sa=N&hl=en&tab=wl
TIME------------------------------------- Lodge Main Stage
5 Trickster
6 Psylotus
7 Arwn
8 Josh-G
9 Jannik Von Rechend
10 T.I.T.T.S.
11 DYLOOT of DEEP VOICES
12am Dissolve
1 Mindstorm
1.5 Dual Core
2 Mad Maxx
3 Wichdokta
4 Frost Raven
5 Bodhisattva 13:20
6 Michael Liu
7 Vajra
8 SAUSEE
9 SwitchBlade
10 Genre Key:
11 Psytrance
12pm Dubstep
1 Electro
2 Trance
3 Chillstep
420p Closing Ritual / Cleanup
TIME---------------------------Lodge Side Stage
5 Young Link
6 Dubster Spook
7 Willy Whompa
8 Lauren Keys
9 Dub Thug
10 TASO
11 Ripple
12am Infusion
1 Carlos Alfonzo
1.5 Beeson
2 Aleks/MunicipalYuth
3 Alias (Luke vs Myk)
4 Hedlok
5 Reclipse
6 TurfDubz/Measure-D
7 Arch Rival
8 Vajra Breaks
9 Dubsack
10 Trickstr VS dublotus
11 Willy Whompa
12pm Gobi
1 Teknikul
TIME----------------- New Dome/Yurt
4pm Teknikul
5 Fhloston Paradise
6 DogHands
7 Danny Feral
8 Beeson
9 John Beaver
10 Black Sheep
11 Andy P
12am Clymax
1 Grizzly - J
1.5 Outersect
2 Dj Nod (UK)
3 Chlorophil
4 420 Chilla-Spook
5 NOV SANUS
6 Frost Raven(chill)
7 Lithic
8 Bhanu
9 LG
10 LukeNuke/Mykies
11 Boggle
12pm High On L(Liam Shy & Lauren Keys)
1 Non Sequitur
2 Thomas Cruzio
3 Valixi
TIME----------------------------------------------- Pool Side Groove
4pm Tom
5 4N
6 Chey Figs
7 DJ Johan G / Starman
8 Benny Venom
9 Carlos vs Infusion
---Moves inside to the VIP YURT
10 Michael Liu
11 Nimerix
12am Thomas Phan
1 Josh-G
1.5 John Beaver
2 Jannik Von Rechend
3 Keni Kenzter
4 sTony In Orbit
5 Aleks vs Andy P
6 Wes
7 Dbot
8 Danny Feral
9 Chanu (chill step)
10 Outersect
11 Chey Figs
12pm 4N
1pm TOM
----------------------------------------