Doctor Spook is a worldwide famous VJ, but also a digital video producer, DJ, music producer, label owner, teacher of computer animation and works with the creation of 3D interactive games and special effects for movies... He's melting down the audio visual frontiers at parties. In this colorful interview he talks about his projects, work and everything else, what this artist painted for us is a long journey through different and interesting landscapes, with images and words guiding the way.
Enjoy!
fullonline: Who is "Doctor Spook", where are you from and when you started to produce digital art?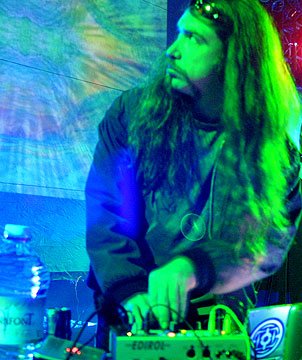 Doctor Spook: Doctor Spook is my title as DJ and VJ/Animator. I have had the nickname "Spook" since 16 years of age. Born in Tuscan Arizona, I did most of my growing up in California but San Francisco has been my home for 20 years. I have been into art since my grandma taught me to draw at the age of 2. Digital art came around 91 with my first computer a Mac 2 LC, incidentally provided by my same amazing grandma. I created my first 3D and sound work on this machine with some of the first digital tools ever available for artists. Making 3D trip art helped keep me involved in the early SF electronica scene in the 90s, projecting at my first rave, Cyberfest in 94. My music production was mostly jamming with other producers but I started building a studio in 96 after my first encounter with Goatrance. I have been searching for psy-trance, or what it was back when, since the late 80s but I finally found it at Burning Man 96 at the CCC camp 7 miles from nowhere in the middle of the black rock desert under a 30 foot tall alien. I partied for 3 days with out stopping watching the sun rise each time over those majestic pointed mountain tops. The funny thing is I was pretty damn sober for much of it (sleep dep not counting). When I heard Psychopod aka Kox Box ie Ian Orion, blasting out the beats I was sooo hooked! The music was unbelievable. Finally a party where EVERY TRACK was great! Now 10 years later I think it has really grown on me. In 98 at Burning Man I started DJing and producing psy-trance events. In 2004 I started to write Psy-trance with Chromatone and Random under the title Phoenix Family and in 2005 Mindstorm, my solo project was born!
fullonline: Tell me about what you have done professionally and what you're doing now.
Doctor Spook: Way back in 94 I started my own company , Media Bytes, with some friends and students (I meet the investor/president in a class I was teaching). We actually got someone to pay us to sit around and make art for nearly 2 years and when the bubble burst I took my tax return and started Minds Eye Media with my partner, another former student of mine as well Sherri Sheridan in 95. We worked as a service company doing multimedia and 3D fx for all sorts of corporate and entertainment big shots. Go to www.mindseyemedia.com/info/clients.html for a complete list. Service sux. We had a realization that there was no future in service when a product we helped create for a flat fee sold over 1 million copies (We created the highly acclaimed 3D multimedia enhanced CD for the 2nd album for THE REAL MCCOY). So we re-educated ourselves in a variety of ways and re-focused on a product based model for our company. Our 1st product was a best selling and very visible book, the first one on its subject of making your dreams come true using 3D tools titled MAYA CHARACTER ANIMATION, Newriders pub, still available on Amazon but now out of print. It sold nearly 20,000 copies world wide and was translated into 4 languages including Korean, Polish, Russian and German. I also helped on Sherris revolutionary new book DEVELOPING DIGITAL SHORT FILMS, also on Newriders pub, My next product was the MAGNUS DVD. This was an experiment to see if the world was ready for psy-trance trip visual dvds. So far the experiment has grown into this latest incarnation of Geomagnetic.tv an idea that was first launched in 2001 at the Fusion Festival with a v/a CD comp featuring local psy-trance musicians including some of the first 3 tracks from PENTA and OCELOT, that I self manufactured (We moved 200 of them locally).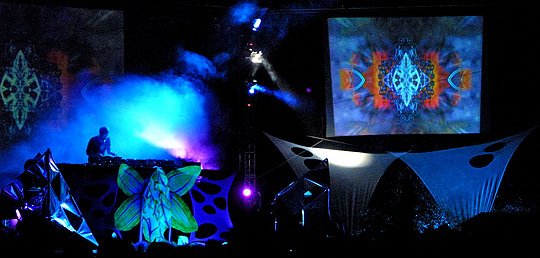 fullonline: You're a VJ, Digital video producer, DJ, music producer, label owner, teacher of computer animation and works with the creation of 3D interactive games and special effects for movies. Wow, it's a big list! What of these occupations you enjoy the most?
Doctor Spook: I am most passionately into the performance side of DJing. There is such a connection to the dancer floor that mixing a killer set can provide that is unequaled in other art forms. The slightest twiddle on a knob can cause roars of joy, or if you make a mistake, groans of disgust. So the pressure to deliver a flawless yet unique and flavorful mix is really present. I love the music so much that writing music is the logical and natural progression. So returning to producing trance after researching it (as a DJ) for so long was also relieving as its been stuck in my head, now it can be set free!
As a VJ no matter how much I love the art-form of VJing, the technology, no matter what I have tried to use, is so behind the times. I have access to state of the art gear and I have tried all the programs and sure they are cool, but unless I want to build all of my own tools from scratch (and I am strongly considering it) they are all so limited. Software is limited by resolution and what kinds of effects can be applied and hardware invariably only allows two channels to be mixed at a time unless you string a bunch of mixers together or use obscure hardware with funked out proprietary interfaces.
It's been a little while since I "produced" a video in the classic sense of doing it from the storyboard up and it's a lot of work to do blue screen shoots with live talent then work all the 3D shots together and do all the compositing and editing and fixing and lalala. My most memorable are 3 of my "videos" i.e. live blue screen short films. The first for Geffen Records artist Young American Primitive, won best music video at a huge international competition in 98 and went on to be debuted across the world in the first global tour of RESFEST. I did a rough mock up for Guitar God - Joe Satriani, Sony Records that got some attention. My latest full production is the opening video, Deepstep, on MAGNUS for ABA Structure, Vision Quest Japan, and is truly evocative. I know I will do more soon but it is all consuming work.

Creating 3D animated films is definitely one of my more passionate art forms and is the reason I made Geospirit1: Virtual Vortex, to see if one person could create an hour of all original character animation and detailed environments in 3 months and if you enjoy that DVD then the answer is yes! It can be accomplished!!
I spent over 2 years of my life developing a revolutionary game that was a few years ahead of its time and it was some of the most amazing time I have ever spent with a team/family that grew to 30+ people working around the clock in space station style live/work quarters and though I will do it again, it was a lot of intense learning process that occurred. The movie that I was involved in was also a long process, nearly a year, and it was rewarding as well as a real test of patience. I taught 3D animation and Digital Video FX to thousands of students (once with 1000 all at once!) for many years and at many schools, workshops and conference/seminars. It is also an amazingly rewarding experience that I am sure I will do again someday. And now with this new venture taking off Geomagnetic.tv is my real passion right now. It is amazing to empower the new generation of music and video producers by releasing their work and helping to give them exposure and recognition for their achievements. In fact doing A&R work seems to happen quite naturally with loads of serendipity happening every day. It all seems to blend together quite naturally with each art form complimenting the other very well.
I think with our new Global Culture Magazine, GEO, that we are launching in 2006 we will see a cohesion of all these mediums to present them as a complementary collection of tools to empower this next generation of societies leaders to have the influence and power they need to guide our culture back to evolving our minds and bodies to a harmonious and connected global future.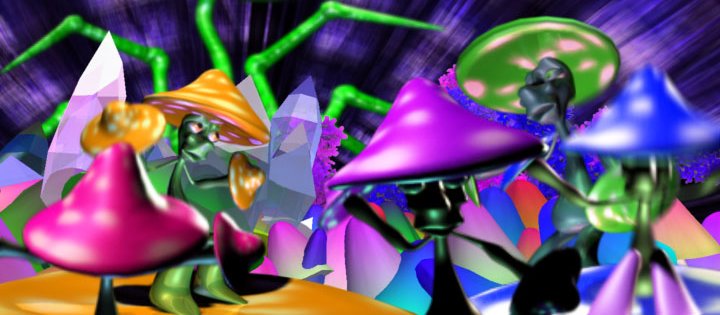 fullonline: Tell me about your work as a VJ. When you started to play at psytrance parties?
Doctor Spook: Believe it or not, other than Dr Paradise showing his extremely advanced visuals (for the time) behind Goagil, back in the old days, psytrance didn't embrace the visual component, preferring to do elaborate blacklight fluro displays and have live performers. I was mostly doing gigs with Dimension 7 one of the more resilient VJ collectives in San Francisco from 96 until 2000 at all sorts of parties. From Giant Raves, to private corporate parties at Theme parks, from warehouses to huge Halloween parties in front of SF City hall. And best of all at the hugest gigs at Burning Man at the community dance parties! Back when they were THE party at Burning Man and tons of folks were gathered together blowing their minds out on the edge of the festival... But in 2000 Adam Ohana did the 2nd FUSION Festival and he decided to have a huge circular screen built behind the DJ booth and hired my new crew Chaos Consortium (Arcane and myself at the time later to include Omananda and others) to do the visuals for 2 days for 2000+ people just absolutely going apeshit! People really were getting mesmerized by it and as different effects were applied or tweaked the audience was reacting to it. This guy ran up and leaped on top of the dj booth, stood on top of the turntable and dove into the screen. It bounced him back and he looked up confused at the dj and asked why he didn't get let through the gateway and she replied "you were rejected" LOL! It was gratifying to feel that the visuals had a significant impact. My friend Sean aka DJ ATUM of THUMP radio hired me as the resident visual guy for them since that event and I have been providing the visuals component for up to 10+ hours at a time at 60+ International trance parties VJing for ALL the Biggest names repeatedly from GMS, Infected, Hallucinogen/Sphongle through Astral Projection, Sun Project, X-Dream, Kox Box, Logic Bomb, far more than can be named. I am also the resident for the Fusion and Tantra "massive" psy-parties here in SF. Actually I guess I am the defacto VJ at pretty much all the SF trance parties, lately integrating more of the crew such as VJ English Steve and VJ Egnogra at events. Doing big festivals like BOOM in Portugal and EARTHDANCE, HEALTH and HARMONY, BURNING MAN in the US is a real great experience and allows a diverse and much larger crowd to experience a show that many have exclaimed that they "have never before encountered". Blowing minds is the best part!
VJing can consist of as much as the whole show (gear, setup, content, breakdown, shakedown(getting paid) and travel) to as little as showing up with some content for an hour and doing a vj slot (akin to a dj set where the gear and infrastructure is in place and you just perform your content). I own a whole kit of portable gear incl 2 video projectors, 4 mini dvd players, a V4 video mixer, and a performance notebook pc that all fits in a single carry on roller case and a backpack so I never have to let it out of my sight.
fullonline: Any advice for new, starting VJs? What is the worse mistake a VJ can do?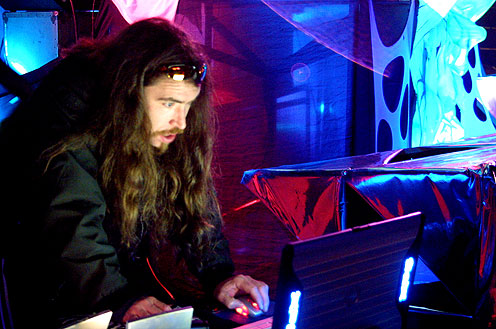 Doctor Spook: For new VJs I recommend to create your own content as much as possible. It is most rewarding to mix your own visuals. Also try to acquire as much of your own gear as possible. Create VJ communities by networking with other and teach one another what you know to increase all of your knowledge. Make videos for friends doing music and post them on your web site or tribe space. Volunteer for parties to get your names and style in front of people. Re: Software there is always new stuff coming out but find something that works and get good at it. Its less about what program you are using and more about what content you are showing. I use Rkaos now but I just want whatever is best. Hardware is the most reliable mixing tool so I recommend to invest in a mixer, the cheapest and best is the Edirol V4. When it comes to mixing its good to have two people because its hard to stay fresh for 10 hours at a pop and you wont mix as much if you don't have some one to bounce off of. When debating what's more important the images or the technique used to mix them I would have to say it's a not one or the other its both.
What's the worst mistake? Other than letting the screen go blue or a DVD startup screen playing, the biggest mistake a VJ can do is to not VJ.
fullonline: What are your musical psytrance projects? What equipment you use?
Doctor Spook: My solo project is Mindstorm and its all software based. I also write with Random and Chromatone under the title Phoenix Family, but we have been so busy lately that doing group projects is not as often. We mostly use Macs with Logic 7 for making the music and pc laptops with Live 5 for performing it.
fullonline: What is the concept behind your label GeoMagnetic.tv Records?
Doctor Spook: The concept behind GEOMAGNETIC.tv is to provide the fusion of music with visuals and storytelling. Psytrance has generally been the core of the label's musical genre but we are very forward thinking and open to new styles. Our goal is to empower the new generation of audio/visual producers to create and release their creative potential. I feel that we are at the front of a new generation of media groups that are forming around the world with the collective goal of utilizing all of this great technology to communicate a message of truth and hope. I wanted to create a label to give an outlet to my friends who were not getting enough recognition for their achievements. I also wanted to fill a gap in what I felt was the bridge between the psychdedlic visual and audio world. My mission is to use Geomagnetic.tv to bring many of the psy-trance labels together to showcase their work to huge new audiences in the us and other parts of the world that are just now finding out about this movement and embracing it.
fullonline: I see that GeoMagnetic releases both CDs and DVDs. Can you compare DVDs and CDs sales? Which has the biggest demand?
Doctor Spook: DVDs have a much longer shelf life, a higher price point and are a little less prone to pirating. CDs have a much easier market to approach and with a little promotion and good tunes can expect a fairly smooth release strategy. Obviously the demand for trance cds has spawned the hundreds of new labels now out there and the thousands of new artists springing up all the time. This is the only way the art form will prosper and grow but this must be tempered with the communities desire to reach out to new audiences and integrate with an ever increasingly diverse crowd in order to not completely over saturate the market and thus damage it by over stimulation.
The market for psy-trance related DVDs is very small at the moment but all the labels are interested in the idea and it is just a matter of time before it is a common practice to include DVDs as part of a labels releases. The Digital downloads sites are starting to embrace music videos as well. Sales of DVDs depend a lot on diversifying the distribution. Stores that don't sell cds might still offer DVDs, and DVDs can transcend the genre barrier easier as well because some of the audience doesn't care what music is on the disc.
fullonline: You compiled and released a DVD and CD compilation with 11 new unreleased tunes. How did you select the tunes on this compilation? How long did you take to compile it?
Doctor Spook: The process was a combination of writing music specifically for the comp and selecting music that fit the story and flow. It started when my collective partner in Phoenix Family, The Wichdokta, and myself started doing events with international talent. It gave me the opportunity to pitch the concept to some folks in the proper environment. Every producer that was offered the opportunity to have a video wanted one. The process began early 2003 and I locked down the line up early in 2005. I always wanted to help put our label artists on the map by releasing the co-creations we made while the guests were here. In the process we made some great lasting friendships and helped bridge the not so distant space between the US and the "rest of the world". This DVD/CD compilation does just that.
fullonline: What should we expect from the DVD and CD compilation GeoSpirit 1 - Virtual Vortex released on November 2005? What is the concept behind the album?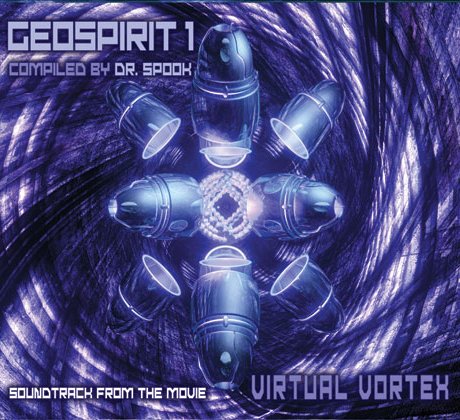 Doctor Spook: Well first off all the tracks were picked or written with the "Journey" in mind. Goa trance from the old days was fused with a sense of mystery and magic where the mind felt that it was travelling to distant dimensions and far away lands. These tracks are all about the journey, real visual music. The videos were composed both with the story in mind for each song but also the whole "album" together. Some of the story came together during the process and some of it was strictly pre-planned and storyboarded. All of the videos form a cohesive experience and communicate a message but stay joyfully abstract and psychedelic at the same time. Expect to be delivered a top notch batch of the worlds best psychedelic trance from full on and progressive to wild and hard blasters. This story spans the spectrum and beyond!
fullonline: What kind of support does your label, GeoMagnetic Records, give to its artists?
Doctor Spook: Geomagnetic works closely with the label artists to promote them and expose them to new markets. We have an international booking division that has a worldwide network that is growing everyday. Our artists have played all over the US and Mexico and some international bookings as well and that is expanding as well. I think one of the biggest highlights that we have to offer is a DVD to go with every artist's album as well to promote them to whole other markets that might never encounter this music otherwise. The clothing option will be explored very soon as well as other things such as posters and hi-res versions of the cover art from the albums. Also we are very active in doing massive grass roots promotion with our press releases going out to 30,000+ interested people and growing via internet tribes and psy forums and that not only helps sell albums but raises awareness about the artist and what they are doing. As of Nov 2005 we are now sending out our press releases on a monthly basis and adding 1000 of people each week to our sphere of influence.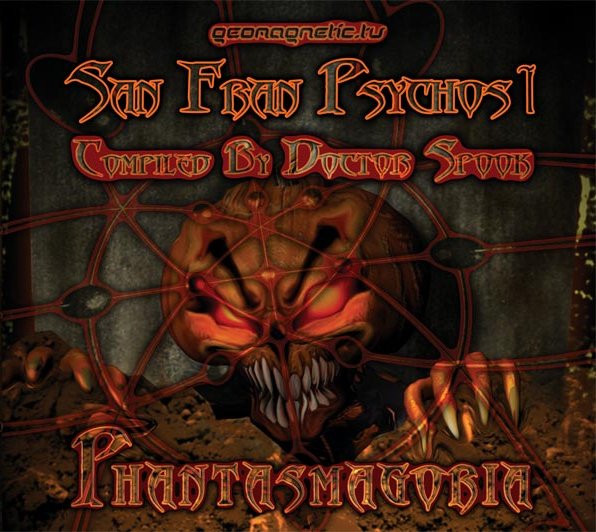 fullonline: Tell us about your next release, the compilation San Fran Psychos 1: Phantasmagoria. What is the concept behind it? When will it be available?
Doctor Spook: San Fran Psychos 1 is all about highlighting the creative talent in this amazing city and wrapping it up in a Halloween themed package (spooky is good all year long, just ask the mistress of evil that delivers the goods). 10 Dark and funky tracks that will keep you leaping around like complete maniacs! Most of the artists on the comp are accomplished psy-veterans with loads of releases out on the international charts. A few like Helios, Aeon, Viral and Mindstorm are new names to the charts but are ultra talented producers with artists albums on the way as well as some tasty treats on the near future comps.
fullonline: What are the GeoMagnetic Records' future releases?
Doctor Spook: Random is the ripest artist ready to harvest here in the US. From his album blurb "Random is the at the front of the pack of PSYTRANCE artists coming from the highly anticipated hot bed in the usa- SAN FRANCISCO. He has toured the US extensively testing his music on dancefloors and festivals, clubs and outdoors, night time and day. His flavor is ripe for the harvest and the music is perfectly seasoned for maximizing your pleasure centers! Not only has this genius of the psychdelic wizardry been zapping packed dance floors silly but he has been doing it for many years both as one of the Bay Areas first GOA/PSY djs (Flawless mixing is his trademark) but also as one of the pioneering projects Producing and releasing music as early as 2001! The world is ready for this dance floor sensation to storm you into bliss!!!"

and

"Wellspring is a celebration of life, art and freedom. The theme of freedom is expression and joyous celebration. On the spring Solstice we traditionally start the outdoor party and festival season. Equinocturnis means equal night and we interpret it to remind us that the night is a very important time to gather together and form community in preparation for the year to come, embodied in the form of the sacred dance circle.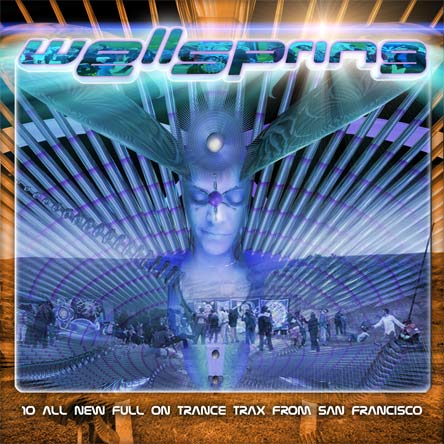 This compilation represents the music from the artists that perform at these ritual celebratory expressions of our faith in the cosmos for the eternal regeneration of the life process. Affirming our belief through action is the most powerful symbol to the universe. These sacred musical expressions presented here are harmonically tuned to create maximum mind - body, mental -physical and psychic cleansing through ecstatic dance and dynamic meditation."
Line Up
1. CHROMATONE vs HELIOS - New Conciousness
2. THE LOOMI - Freak Factory
3. AEON - There For- Party
4. QUADRA - Vibrations
5. PENTA - Blue Xmas
6. MINDSTORM - Star Stuff
7. RANDOM - 13 Again
8. BODHI SATVA 1320 - Gung Fu Trippers
9. DEEPER IN ZEN - Aspects of Vibration
10. ROB-OT - 1995

"Engrams 1: Luminaria 2012 is going to showcase 10 different creative visionaries visual interpretation of the process of transition to the time of 2012. The videos are set to special selected tracks the embody the essence of this theme. Together the videos tell a tale of galactic awakening and the transcendence of the physical limitations of this dimension. The artists creating the audio tracks represent the pinnacle of the international dark psytrance masters and were chosen for their intensity and clarity of the message. The visual artists are span all edges of the globe and each is noted as being the master of their region and their artform".
Line Up
MUSIC - - - - - - - - VISUAL
1. Mubali - - - - - - -VJ Arcane
2. Penta - - - - - - - VJ EgNogRa
3. Electrypnose - - - VJ Dr Spook
4. N3XU5 - - - - - - -VJ Omananda
5. Para Halu - - - - -VJ Lovemushrom
6. Wizard Lizard - - -VJ Bijari
7. Xyla - - - - - - - - VJ Tantric Demon
8. Ocelot - - - - - - - VJ Chakra Corona
9. Vazik - - - - - - - -VJ Golem
10. Zik & Dylalien - - VJ Synchromaya

Also available is our first release, MAGNUS Geomagnetic.tv sampler v.1 - "This DVD fuses together the talents of some of the worlds hottest VJs and psychedelic computer graphics producers with the worlds leading electronica and Psytrance music. This never before seen collection of high quality 3D animation and trip visuals will blast your brain into a new form of visual and audio enlightenment. So get ready to not blink for the next 90 minutes as you interface with Geomagnetic.tv DVD sampler volume one."
We are also launching a new product series aimed at delivering a seamless visual show for parties based on the style of vjing that is done live at events. We have titled it VJ Mix Magix. VMX for short and will release a new episode with most of our comps and artists albums. The sound track will co-incide with the CD release but will be presented as a "DJ MIX" in a continuous flow to emulate how the flow of parties are presented.
fullonline: What do you think about people sharing music through mp3 instead of buying it? Are VJ clips shared in the same way?
Doctor Spook: Well I think that a quote off of the message on the new PENTA - FUNRAISER Album on Aura Quake Rec, sums it up best. WARNING - Copying music makes the artists wildly famous! It seems that those who will buy music will buy it and those who wont, wont. Its always nice to think that a message imploring people not to do it will sink in but, there is a law of the universe that information must flow and when music became data it integrated with that universal law. If you do copy music and most do to some extent, then please at least remember who the track was written by and what its correct title and release label is and pass that data diligently and accurately along so at least the recognition of the achievement can be shared.
I am sure that VJ clips are and will be shared in a similar manner and the same message is true in both mediums. Share the creators info along with the data. Tell all your friends about it and if you truly like it then some of them will buy it. The key is reaching the most people to up the chances of making some sales along with the sharing.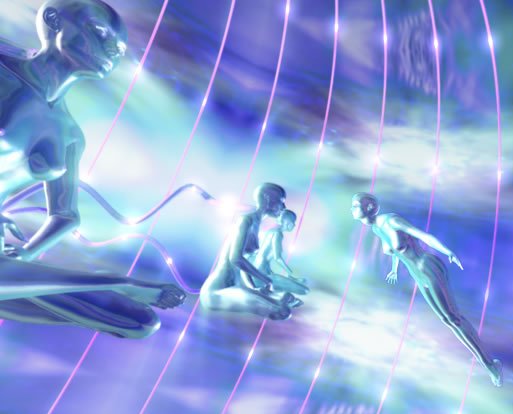 fullonline: How is your work as DJ? You like to play music from which artists? What is more important in your opinion: the technique or the music selection?
Doctor Spook: DJing to me seems far less like work and much more like play. I play music from the artists that are on my label both the comps and the albums. Being the A+R guy means a plentiful stash of fresh music. Throwing events and spending time interacting with the producers that come to town also yields some tasty secrets as well. I have a wide musical taste with an emphasis on heavy and uplifting (in the same track). I have found that when composed and juxtaposed together melodic and dark psy trance go great together. When one melody is finishing and the dark hard stuff pounds in you get a scream that inevitably results from the power and depth of the dark psy. But after a bit of dark a "non trauma" crowd loves to have a sprinkle of a little fluff to bring them out of the darkness. My style moves around a lot but when the time is right for a long dose of either style then I won't hesitate to deliver just giving longer spaces between breathers of melody.
Regarding mixing technique, I prefer to beat match most of a set and toss a couple of intentional pauses (waiting for a song to end and playing the whole intro). Many new djs or the most old school don't seem to have a high regard for beat matched transitions but that to me ignores more than half of what presenting a mixed set is all about. Lets not stop at beat matching, the much of the psy trance today is composed in such a way as to be fairly friendly to djs giving clear "phrases", or sections of music with mini beginnings and endings, that can be composed together with another song to compliment the energy of the "finishing" of a track and the "beginning" of a track where one descends and the other ascends and the mixed segue will accentuate the music in such a way as to magnify and intensify the effect. Also picking tracks that are in key or at least compatible on the musical scale together really makes a big difference. Traversing the scale with the key of the tracks across a set is a really good way to help tell a story with your musical selection. Together with proper track selection you can bring a dancefloor with you on a journey and deliver a satisfied audience to the next dj or producer.
fullonline: Do you prefer to play/perform as a DJ or as a VJ?
Doctor Spook: DJing is much more directly influential to the audience in most situations and as such the emotional connection is much more present. So I would have to say that I prefer to play/perform as a DJ. When VJing it tends to be a much more introverted performance, often times being hidden away from the audience and your friends for most of the party. This obviously flavors the experience in many ways. VJ sets also tend to be much longer than the average "1 hour" dj sets that most parties have degraded to often lasting 8-10 hours, the length of a party plus set up and breakdown time. So with this aspect put into perspective of prancing up to a dj booth with a little wallet of cds and some headphones and delivering a blasting set to screams of joy and then being able to relax, dance or go home if you want. So I guess when the world of vjing evolves into what the world of djing is today it might change the questions parameters a little. Ultimately VJing ends up being much more like work and much less like play and even though I love both artforms any logical person can see the difference.

fullonline: When VJing and DJing how do you deal with the different kinds of public? How the country influences the music and images you choose?
Doctor Spook: So far that I have seen all over the world people react very similarly to the music. If its new to them they watch for awhile and then either leave or start dancing, more often they are dancing. I have noticed that when leaving freakapital here in SF folks react a lot differently to imagery I take somewhat for granted of parties like Boom or Burning man and their eclectic fully decorated performers and large scale presentations recorded live mixed in a vj set. Also I find music that this music can be quite fresh in new cities that are not exposed to the "latest" tracks. When I leave home I love to play the music on my label to see what the effect is on new dance floors. I also find it refreshing to go to a new place a see a lot of new happy faces many just now starting to discover the music and it brings me back to the time when I first found goatrance and how it affected me so much. I have played in Koh Phan Gan - Thailand (in 2000), Reykjavik - Iceland (in 2001), BOOM - Portugal (in 2002), Mexico City and Guadalajara - Mexico (2005) and in dozens of cities and outdoors all over the USA (1998 - Present). I think the only place where things seemed really different was in Mexico. The parties always have lots of guards and barriers separating the crowd from the performers and to some degree at a big show with thousands of people that is required to reduce the risk of unknown things occurring but still, it was a little weird. It felt more like a rock concert and less like a "party".
fullonline: Do you think that VJing will start to be more associated with psytrance parties? Which profession earns more money and who has more job opportunities, a VJ or a DJ?
Doctor Spook: It will if I have anything to say about it. I can answer for certain that before I was making a point to have a good visual show available to the psy-trance community in the Bay Area of San Francisco that it was not very common to encounter. That is changing now with pretty much every psy party in SF having some sort of visuals component, usually with me or a Geomagnetic.tv VJ. There is not a lot of money in either art form (at least not in San Francisco) but I think all over the world the Visual show is understood to be an investment into the event so its not too hard to get a decent budget for a show. However with the number of DJ's/Producers out there it is evident who is getting paid regularly. The music. If you turned off the visuals no one would complain a lot. If you turned off the sound system everyone would go home. So the money is reflected by the value to the event. Visuals are an after thought or an element of the deco for most events. Line up of tons of DJs and producers and one or two VJs for an entire festival. Imagine One or two DJs for a festival and a huge line up of VJs. Would be funny, no?
fullonline: What labels are releasing good music in your opinion these days?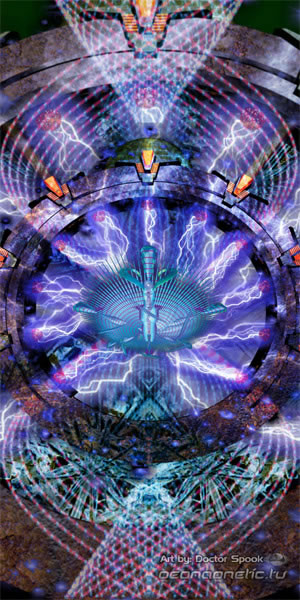 Doctor Spook: Dropout, Mistress of Evil, Noise Poison, Kagdilla, Mechanik, BNE, Mind Funk, 3D Vision, Mind Controllers, Acidance, Auraquake, Soular, Neurobiotic, Spun, Maia, Spectral, Shiva Space Tech, Dragonfly to name the top few in my CD wallet right now. It changes all the time. Some labels are hot and then cool down for a time while others have a chance to train-spot and come out with the latest hot thing. I have noticed a trend in the "bigger labels" to find a sound a stick with it till its not as fresh anymore. To avoid that trap I have kept the focus of Geomagnetic to "good" music instead of getting stuck in one genre or the other. Expect to see a wide variety of styles emerging from our releases. Some of our new artists that will release albums on Geomagnetic include AEON - Hard, driving and clean, Fresh!... BODHI SATVA 13:20 - Wild, powerful and original, never boring!... THE LOOMI - Fantastic production with Full on sensibility and a SF style groove!... HELIOS - Uplifting, modern, morning goa with a twist of funk!... MINDSTORM - Potent, evocative and tight, always evolving!... We are also in the process of signing on several international acts for full artists albums. Several of these are veteran producers with multiple international releases and an album under their belts so stay tuned!
fullonline: What are the online stores selling psytrance music that you trust?
Doctor Spook: SaikoSounds.com, psyshop.com, geomagnetic.tv, FutureOctave.com, Beatspace.com, ChaosUnlimited.co.uk, Wirikuta.at are my favorites!
fullonline: Share your experience and tell us what makes a good party. You think decoration is important is more important than the line up?
Doctor Spook: First thing for a good party is Intention. The promoter or collective must have an intention to create a positive and enlightening experience for the people who come and the people who produce it. Next is a clear concept of the energy and theme of the event and then comes a line up. The knowledge that the space is stable, comfortable, safe and secure of course is paramount to people letting loose at an event. The sound system and a qualified engineer is crucial to the experience being truly pleasurable. The guests and talent are an integral component that insures a certain level of quality to each other, ie the partiers want to know that no matter what the music will be great and the djs/producers want to know that the partiers will be receptive and ready to dance. Deco/Visual taste tends to be one of the aspects that sets various crews apart from each other. Proper promotion to an interested audience is crucial as well. Getting the word out to the guests and letting them know that you have the other 6 aspects dialed .
1. Positive Intent for Event
2. Clear Concept of Theme
3. Line Up/Guests
4. Location
5. Sound system
6. Deco/Visuals/Alters
7. Proper Promotion

fullonline: What do you think people should do to make a better scene? Any visions about the future?
Doctor Spook: Evolution is paramount to growth. Diversifying the music and direction of events will inevitably bring more variety and increase the amount of exposure of the music to a larger audience. Adding a visual component to the music will also increase exposure as this is a tv/computer generation. All of the above. The music is too good not to go commercial with it. Sure that will "ruin" some of the parties but the cool thing about parties is that you can always do them anyway you want them and that means who comes/plays is up to the person presenting it. So if you want something done you have to do it yourself, catch my drift?
fullonline: We all know that all kind of weird stuff happen at psychedelic gatherings. Can you tell us something different/funny that you saw or happened to you in a party?
Doctor Spook: We had a Halloween party this year and I always dress up as some version of "Dr. Spook". Well this year a friend of mind dressed up as me, borrowed my hat, and some "goa-britches" ie tight little spandex Space-tribe tights cut his beard to look like me and performed some "Spook style" dance moves. Lots of people assumed it was me and one guy was so convinced that he my friend had to bring him up to me to show him it was a hoax... It was hilarious! Anyway that was a pretty funny/weird/different thing. The first time I performed as a dj (Burning man 98) within 20 minutes a gorgeous woman (with her boyfriend) walked right up to in front of the dj booth looked me in the eye and stripped of her clothes and gave me a wild little dance. I was totally blown away, as was the dance floor and I guess it made a lasting impression. The funny thing is I have been with the same loving woman from before the time I found psy-trance all this time. She has witnessed a really wild transformation from a guy who basically was stuck in a lab 24/7 to a person who is now me (still in the lab a lot, but a totally different person than 10 years ago).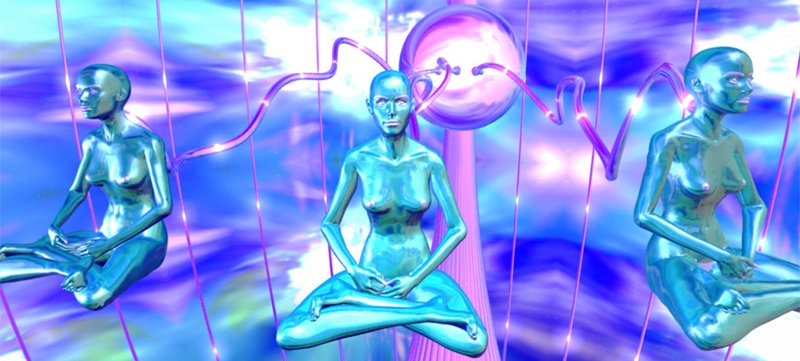 fullonline: I heard you practice capoeira for a long time... How did it start? What's the capoeira role in your lifestyle?
Doctor Spook: I found capoeira at San Francisco state with Mestre Preguica of Grupo Omulu Senzala. I almost earned my Orange belt, 3rd level after 3 years of steady practice but then "dropped out" of regular training. I still play at the occasional rodas in Golden Gate park at hippy hill drum circle on weekends and burning man but I don't play regularly. I really should start doing it more often it is so much fun and really is a deep psychedelic trance experience all together. When playing for a while you find a second and third wind after several long sessions in the center. Sometimes you get possessed by a spirit that transforms you right there while playing and it is like something takes hold of you. It's a little scary but really good. It's kind of like when DJing and the vibe is really strong and you are mixing track after track of your favorite music. You begin going out of your body and getting really agro, your mind is on fire, your whole physical form twitching with energy. The only thing that keeps you grounded is the knob twiddling and bringing in that next track, sometimes having to find the next and cue it up to catch the next transition on the beat, to bring it somehow miraculously synched and let it loose! DJing, Psytrance dancing and Capoeira has so many deep parallels. I find myself doing capoeira on the dance floor all the time "accidently" or sometimes with someone else who I know does it too and we freak out the dance floor, spinning around doing cartwheels and flipping around.
fullonline: Any last comment, message and/or promotional link?
Doctor Spook: Follow your bliss!
http://www.geomagnetic.tv/
http://www.mindseyemedia.com/
http://www.doctorspook.com/

fullonline: Thank you!
Respect!