-------------------------------------------------
Saturday, May 19th 2007
LOVE AND DEVOTION
SF, CA All Ages $20 10:30p-7am
GINGER BREAD HOUSE
CONNETICUT @ CEZAR CHAVEZ
--------------------------------------------------
Greetings,
Join us in friendship and joy as we frolic the night away at our special gathering we call:
~~[>> LOVE AND DEVOTION <<]~~
The Spring is a time of spreading love and creating new life. The summer is about creating the vision that was born in the spring. We find ourselves on the cusp of spring and summer. Love and Devotion is a very special community gathering taking place on the evening of Saturday May 19th and continuing all night till 7am. This Phoenix Family gathering is located at a large, safe, well ventilated, private space for 600+ that perfectly accommodates our all ages family style multi room audio visual immersive environment we have in store for you. Big thanks and love go out to all the devoted dancers, revelers, performers, and good spirits who have gathered with us in the past, who come together with peace and positivity now in the present, and all those who we have yet to meet.
The Music: This event features an incredible balance of Chill/ Groovy and Dance music, each presented at what we feel to be the perfect moment in the evening/morning to share this special sound. The line up was created to enhance your experience to the maximum so get ready to dance, groove, lounge and hedonize your self to the perfect level. We have the honor of presenting 5 amazing music producers (detailed bios follow) and 7 much loved and talented DJs (many with Links to their djsets too).

Barak A.K.A Fernando Diaz Gallardo, starts as a musician in 1999 at age of 15, with influences from trance scene of that year. His project was created with only one purpose: Transmit emotions and energy through Trance Music. In 2001 he meets Raul Islas (Smuhg / Divinorum), and started to work together in a dark full on project named Spiraled Fungus and became big friends up to this days. Some months later he met Juan Carlos Ramirez Coello Cepeda (Trailex), who started to work with Barak in some tracks, and played together in some small parties along Mexico City. Some years later, he met Rene Sanchez (Dj Shove), who became his best friend, and co-worker in their project "Teen Sluts". Together, started to play very soon all over Mexico, and got deeper into the Mexican Trance scene with their track "Super Marihuano Bros". Barak continued playing in parties all over Mexico, including very important festivals and huge parties, like Earth Dance Mexico 2003, Green Dreams Festival, Talamasca @ Guadalajara, Mikology Festival Pt. 1, Nierika @ Puerto Vallarta, Astrix and Sub 6 @ Guadalajara and lots more! He has also played at Brazil, in cities like Brasilia and Goiania. Barak has becomed one of the most heard and booked Full On artists in Mexico, and his style is improving everyday with fresh ideas, nice, groovie, and agressive music, for day or night time! http://www.hadra.net/liveacts.php?view=barak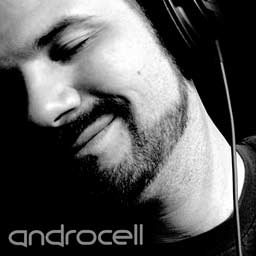 Androcell is an electronic dub / psychill project that began in 2003, created by audio producer and digital artist, Tyler Smith, also known as Quasga. Tyler has experimented with electronic sound forms for 10 years, but has been involved in music throughout most of his life, stemming from a piano, vocal, and percussion background. He designs his music as an aural habitat for cognizant chillers who seek to experience downtempo excursions through sound. http://www.androcell.com

Cybervixen, Joie Favier's music communicates into the heart, riding the rhythm on the electronic dance wave.... Singer, Composer and DJ, Ms Favier has worked with multi-platinum producer Trevor Horn (Seal, Grace Jones, Art of Noise) as a solo artist signed to his label ZTT. She has recorded at world reknowned studios such as Abbey Road and Pink Floyd's Brittania Row. Current releases on S.F.'s Ceiba Records include: "Miditation, Digital and Peaceful", "Visitation" (DVD) and "Cybervixen - Looking Back From The Future". Recent live performances include Earthdance Festival, Anon Salon's "Sea of Dreams" Ball, Fusion Festival, Burning Man Festival, SF Love Parade and the "Digital Be-In". Cybervixen and her songs have also appeared in the underground cult feature film "Liquid Crystal Vision". As a special Loving Gift we will have 100 copies of her latest album KUNDAL MY LINI free for the 1st 100 fortunate guests so come early!!! . http://cybervixen.tv/

WATERJUICE: If you compress water, what essence are you left with? - asks Raven Tupling. The answer is the San Francisco- based duo Waterjuice who have opened a Pandora's Box with their Magical sounds.
Waterjuice is on a mission to bring highly experimental audio nectar to electronic music. Fusing downtempo tracks with the trance-endental school of thought. Hydrophonics will simultaneously groove and squeeze you.
Their music is as lush as its tide suggest, fraught with deep atmospheric Vog blended with solid electronic beats, ethnic polyrhythmus and a touch of didgeridoo. http://www.vaporvent.com/

OUTERSECT: (Rob Rayle) fuses electronic and ethnic music that pays little attention to borders or authenticity, a blend of geographically disparate elements that nevertheless work together as a unified whole. The collection "Caldera" focuses strongly on Middle Eastern hand drum styles while blending vocal techniques from other parts of the world with random electronic sounds. http://www.outersect.net/
Groov-A-Lishus Love Shack: (Downtempo/Breaks/Chillout Environment)

11pm - SATURNIA (celestial dragon/Noctilucent.net) [ Psy Chill ]
12 30am - WATERJUICE (vaporvent) [ Psy Breaks Deep Prog Breals Trance ]
2 am - CYBERVIXEN (geomagnetic/cybervixen.tv) [ Electro Breaks/ Tribal Tech house] LIVE PA
330am - ANDROCELL *2 hr set !!* (Celestial Dragon )[ Psy Breaks / PsyDM/ Electro Chill ]
530am - OUTERSECT (outersect.net/vaporvent) [ Uplifting Psy Breaks and Chill ]
Psychedelic trance Temple : (Melodic-FullOn/Dark-FullOn and Power-Psy)

11pm - Takuan The Pickled Radish (TouchSamadhi/PhoenixFamily) [deep prog and psy]
12 am - PSYNTHETIC (goaplay/symbiosis) [ Progressive Neo-Fullon]
1am - BARAK - LIVE set (Hadra and AP Records) [ Uplifting Full On Psy ]
2am - BARAK - DJ set [ Full On ]
3am - Dr. Spook (geomagnetic) [ Full On - Heavy Psy Fluff ]
4am - Wichdokta (fullcircle) [ Dark Full On - Psy Tech ]
5am - Liam Shy (tantra) [ Psycore - Full On Industrial ]
6am - Leo (paranormal sound) [ Psycore - Fullon ]
And we have more! Some amazing decorations, visualizations, transformations, astralisations, permutations and purifications. Your positive dance floor participation and lots of great physical gyrations shall be your required donations. To the 1st 100 Guests who commit to the full door fee will receive a full copy of CYBERVIXEN's ecstatic full length new album KUNDAL MY LINI. Also we are celebrating a birthday for one of our favorite regular dancefloor brothers - REID (Outpost 23 homey)=) so come and give him a spanking during Barak's set =).
Sacred Space Environments: (Mind Alters / Tao Deco / and a special installation by DREAMTIME DESIGNS aka Garret)

Full Visual Immersion: Geomagnetic.tv (Debuting new DVD "VMX1") featuring Spook + Special Guests

Acoustic Wonderland: Full Circle Sound featuring over 30,000 K of finely tuned pumpin sound.

Location for Directions: http://maps.google.com/maps?f=q&hl=en&q=san+francisco+&ie=UTF8&t=h&om=1&ll=37.750053,-122.396353&spn=0.005938,0.009195&z=17&iwloc=addr
**************************
Also… coming up June 15th - 17th Gemini Free Outdoor Festival 15+ Live Acts 18+ Djs and More...
Lots more info coming soon....
**************************
also FYI, Amoeba in Berkley, LA and of course SF are stocking lots of amazing new titles from our new san francisco based psy-distribution company www.crystal-code.com. Some other great cd stores such as Cieba and Reverb rec in San Francisco, The Beat in Sacramento and United Records in San Diego have also joined up in our out reach effort to bring psy-trance and psy-chill to the retails stores of the usa and in doing so reach out to many fans who are searching for this music just as we did not so long ago. =)
with love and devotion-
Doctor Spook-